Cut open a tauntaun, this JEDI is frozen! US court halts lawsuit over biggest military cloud deal since the Death Star
Oracle's legal warship drops out of warp, on impulse power for now
---
A fierce legal battle over the Pentagon's $10bn Joint Enterprise Defense Infrastructure (JEDI) cloud IT deal was put on ice by a judge Tuesday – after the Department of Defense (DoD) vowed to probe itself regarding the contract.
A ruling [PDF] issued by Judge Eric Bruggink of the Federal Claims Court this week grants the US government's motion to stay the case while Uncle Sam's top brass investigate the cloud computing deal for possible conflicts of interest. The motion was not opposed by plaintiff Oracle nor Amazon, which is listed as an intervenor in the case.
Oracle is suing the Pentagon because it's upset the 10-year cloud contract seeks a single vendor, and believes the deal is therefore unfairly tailor-made for Amazon Web Services. Now, as a result of this latest ruling, that lawsuit is on hold while the military investigates whether its approach to farming out its IT infrastructure is all above board.
"For good cause shown, the court grants the government's unopposed motion to stay this case while the Department of Defense reconsiders whether possible personal conflicts of interest impacted the integrity of the JEDI Cloud procurement," Judge Bruggink noted in his decision. "The government is directed to file a status report within five days of a final decision by DoD."
Oracle declined to comment on the order, while AWS and the DoD could not be reached for comment at the time of publication.
The ruling is the latest turn in a tumultuous bidding process for JEDI, a $10bn contract that would bring a complete overhaul to the DoD's IT system and shift much of its infrastructure to cloud compute services.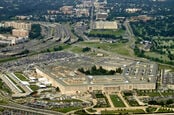 Oracle takes its gripes about Pentagon's JEDI contract to federal court
READ MORE
At the core of the fight over JEDI is a provision that the entire contract be delivered by a single provider. The DoD has argued that this will reduce complexity, while critics say the provision was deliberately written to give an advantage to large providers, namely AWS, who would be able to deliver all of the services on its own.
Oracle and other tech companies argued that by dividing the contract into smaller projects, or allowing multiple providers to bid together, the DoD would end up getting better service at a lower price.
Further complicating matters is a possible conflict of interest within the DoD. It is argued that two now-former DoD employees had close ties to Amazon, allowing the Bezos Bunch to sway them towards writing rules for the JEDI procurement contract that would work to the benefit of AWS.
Today's ruling means that those charges will now be getting a closer look from the Pentagon and, should a conflict of interest be found, the JEDI contract could be re-written or amended to allow more companies to bid. ®