Just do IoT? We'd walk a mile in someone else's Nike smart sneakers, but they seem to be 'bricked'
Owners having a connection 'mare in the Internet of Trainers
Updated Buyers of Nike's eye-wateringly expensive Adapt trainers appear to be having difficulties with the accompanying app.
The sportswear giant launched its self-lacing basketball shoes, the Adapt BB, earlier this year, promising a Back To The Future 2-like experience of power laces.
Ostensibly aimed at basketball players, but more likely to find their way onto the feet of well-heeled fans, the shoe can adjust itself as a wearer's foot changes shape during exercise.
And for that extra bit of bling, the lights on the shoe can also be customised. Just like the flashing lights on those trainers beloved by schoolchildren.
The electronics built into the shoe are powered up by an included Qi wireless charging mat and the whole thing is controlled by an Android or iOS app.
Twitter user Jonathan Warner noted that something was up on the Google Play Store and even a cursory glance today shows users are having problems with the footwear, which is priced at £309.25 on the UK store (although currently unavailable).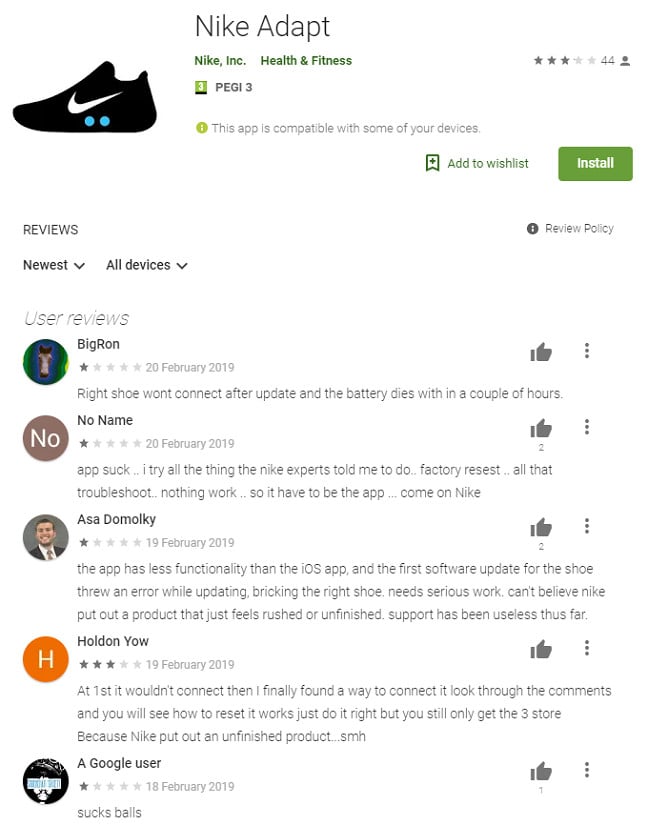 The Play Store page of woe
Folk have reported being unable to connect the app to the left shoe, the right shoe, or not at all. Updates fail and a number have claimed that their shoes have been "bricked".
One anonymous 1-star reviewer summed it up with the comment: "sucks balls."
Getting the app connected properly is very important, since the tensile strength of the underfoot lacing is able to pull 32 pounds of force to keep the foot secure through a range of movement. Without presets in the app, owners must press buttons on the shoe itself.
Or look enviously at those lucky individuals with actual laces at their disposal.
It isn't the greatest look for fashion-conscious Nike, which promised the "first continually updated performance product... due to the near-symbiotic relationship between the shoe's digital app and... opt-in firmware updates".
"Continually updated" can also mean "continually being fixed" in the IT world. Be careful what you wish for.
The Reg contacted Nike to get their take and will update this article if we hear back. ®
Updated to add 16:29 UTC 22 February
A spokesperson for Nike told us: "We are seeing isolated connectivity issues related to the setup of the Nike Adapt BB and are actively working to resolve it. If a consumer experiences this, we encourage them to contact Nike Consumer Services."