The Ministry of Defence is set to prolong the British armed forces' payroll, HR, and pensions admin contract with DXC Technology by half a year – because the military's procurement team has run out of time to find a replacement.
The £400m seven-year tech contract with the ministry's Services Personnel and Veteran Agency (SPVA) was wrestled from the clutches of HP by CSC in 2012. It is due to expire in November this year, sources have told The Register.
Rather than make a decision on the future of the contract, though, the ministry is instead going to extend the DXC deal by six months while its procurement bods continue to weigh up their options.
DXC, as regular Reg readers know, is the result of CSC and HPE Enterprise Services finally merging in 2017, which is why the SPVA deal now happens to be in its hands. And to somewhat complicate matters further, SPVA was folded into the ministry's Defence Business Services in 2014.
A spokeswoman at the MoD told us this week it has been "engaged in a formal procurement process" since April last year "against a widening set of objectives to support its overall business transformation."
"The MoD is anticipating extending the contract procurement process by six months," she confirmed.
Some bidders for the contract have become frustrated with the lack of progress the MoD has made in outlining the objectives of a new agreement. One told us it is possible the current contract with DXC could be extended by a year in total.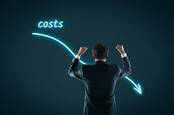 DXC: Everything is going to plan, too well in fact... we've chopped so many staff, our IT projects are now behind
READ MORE
"This is not because anybody is happy with how the contract has gone so far, but because, incredibly, the MoD may be even more incompetent than DXC," our contact said.
"Despite having known for seven years when the contract would end, and having drawn up a timetable for bidding for the new one, they [MoD] have been unable to produce a detailed specification of what the new contract should contain or deliver in time for the contending companies to get their bids in."
The winner of the new tender was due to be announced in May, and the late running of this had "dismayed" a number of suppliers, we were told.
"All bidders have indicated to MoD that they remain committed to the competition," the MoD spokeswoman said in response. "The MoD will continue to work closely with them and ensure that sufficient time is available to deliver this competition."
DXC Technology refused to comment. ®