Google's hybrid Cloud Services Platform (CSP) emerged blinking into the light today, in beta form at least.
Announced at last year's Google Cloud Next event, CSP is built on top of Google Kubernetes Engine (GKE) and includes GKE On-Prem which does, er, exactly what it says on the tin. GKE On-Prem brings all that cloudy Google Kubernetes expertise and allows admins to shove it into a corner of the data centre and slam the door.
Or leave that door open just a crack to run services both on-prem and in Google's cloud.
The move is a recognition that enterprises aren't prepared to go all-in on the cloud, preferring a hybrid approach. Those in regulated industries simply cannot abandon all that on-prem investment, no matter how enticing Google and its peers try to make the cloud.
CSP gives users, according to Google, a consistent platform that spans all environments, integrating existing networking, storage and, most importantly, identity capabilities. And when those users are good and ready, well, Google has a cosy cloud all ready for them.
The team at the Chocolate Factory has also introduced CSP Config Management to enforce role-based access and set quotas over clusters and on-premises. And yes, it "works great with Istio" as, quite frankly, it should.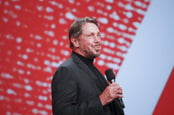 Oracle's cloud strategy is simple – woo and win the latecomers
READ MORE
You'd be forgiven for feeling a distinct sense of déjà vu at Google's excited spurtings. Having a consistent experience over on-premises and cloud deployments is not a groundbreaking development. IBM's Multicloud Manager put in an appearance back in October last year, and allows users to control Kubernetes clusters over public and private cloud platforms as though they were a single environment. New IBM bedfellow, Mauve Red Hat, will also cheerfully fling hybrid cloud architectures at interested customers.
Rival Microsoft has, of course, long had a hybrid cloud line in the form of Azure. Even cloud stalwart AWS has dipped a toe in the hybrid waters with on-premises EC2 instances.
Google are, however, quick to point that its CSP wares can be run on existing hardware. Amazon, of course, would prefer those reluctant to go all-in on its cloud pony up some cash for its own hardware.
It's an interesting move on the part of Google, who continues to languish behind Microsoft and Amazon in the cloud marketshare stakes. Googlers will be hoping that that company's new-found fervour for hybrid could shake up that leaderboard just a little. ®
Similar topics