This article is more than 1 year old
Samsung pulls sheets off costly phone-cum-fondleslab Galaxy Fold – and a hefty 5G monster
Innovation? In my smartphone market? It's more likely than you think
Some day in the future you'll have a piece of material you can fold neatly away in your pocket, a canvas that just happens to be a communication and information device. Until that day, "foldable" phones will be transitional things, reminding us how far short we fall of the ideal.
Samsung took a step towards that future yesterday, a modest step with a heavy price tag.
"The internal screen does not merely bend. It folds," Samsung said of its Galaxy Fold. "Folding is a more intuitive motion, and a more difficult innovation to deliver." No doubt.
The Fold resembles a fat conventional phone with a front-facing display, only with a hinge. Just as the old Nokia Communicator, which it superficially resembles, opened up to become a mini laptop, the Fold opens to become a tablet. There's an undeniable advantage to playing full-screen games, or viewing photos or spreadsheets on a 7.3-inch (QXGA+) display for sure, but not having to lug around a large and easily breakable tablet.
Right now – or from 3 May when the Fold ships – that convenience will set you back $1,980.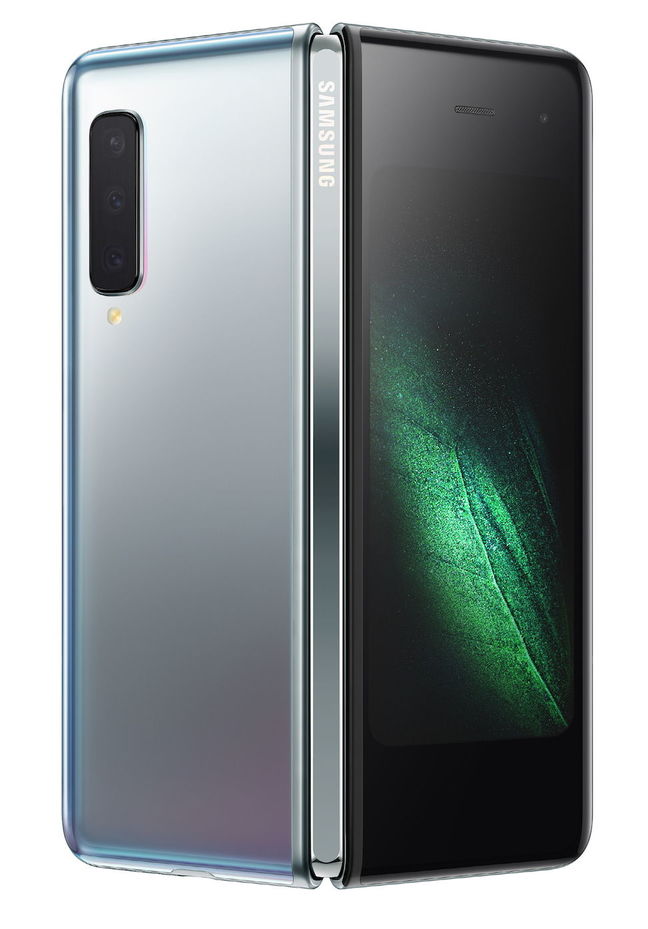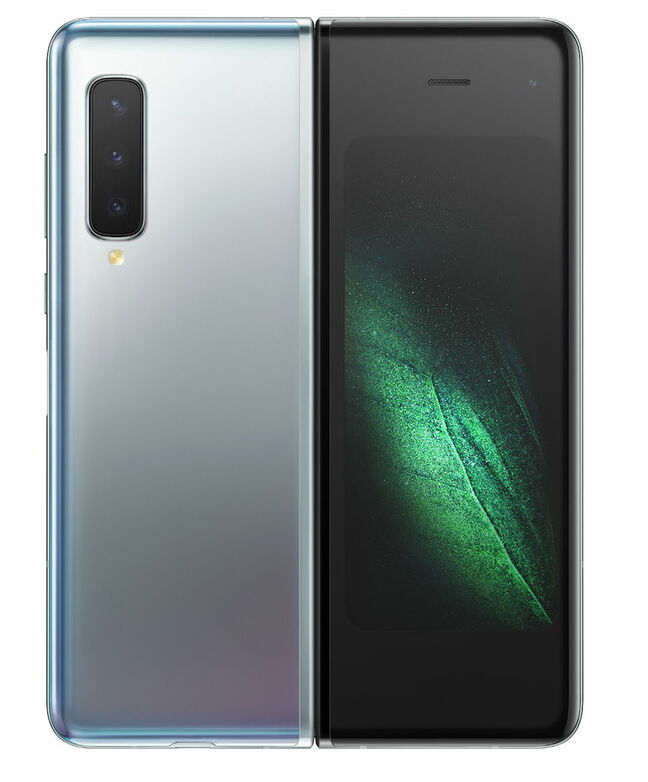 The Galaxy Fold hinge from the rear
The premium laptop pricing is justified by performance and convenience. Samsung packs the Fold with high-end specs (12GB of RAM, 512GB storage, stereo speakers) and a new UI to make multitasking less onerous: it can display three apps at once. Samsung touts its DeX capability. The biggest compromise is the battery, which is considerably smaller than you'd expect from a tablet: just 4,275mAh.
The phone industry knows that the market is saturated and its products are commodities – and everything that can be done with today's designs has already been done. It will welcome anything that brings some enthusiasm back. The Fold will, at least, be talked about. Samsung avoided the circus that's Mobile World Congress, where thousands of manufacturers vie for attention, to give the product a higher profile.
The Galaxy S10 'range'
Whether Samsung's 2019 flagship, the Galaxy S10, can revive the market is more doubtful. Although it's the tenth galaxy, its debut yesterday reminds us how ordinary these very fine products have become – and how incremental the changes are.
What was previously introduced as a pair of devices (regular and large) is now a "range" of four. Details, such as the hole punch cutout inside the display area, had been widely leaked. Here Samsung plays catchup to features Huawei and others introduced last autumn in its Mate 20 Pro: reverse wireless charging, and an in-display fingerprint scanner. Another Huawei feature, optimal switching between Wi-Fi and LTE, makes a debut.
For photography, Samsung shuns the Google route and goes for more sensors, rather than a bigger sensor. Three main (12MP+12MP+16MP) camera sensors are complimented by two selfie camera sensors. Sensory overload?
The regular 6.1-inch S10 in black, white or green ships on 3 March. £799 buys you the 128GB model, a 512GB model is £200 more expensive.
The 6.4-inch S10+ starts at £899 and is heavier than the model it supersedes at 199g. Both S10 and S10+ models pack a larger battery than last year's S9 and S9+.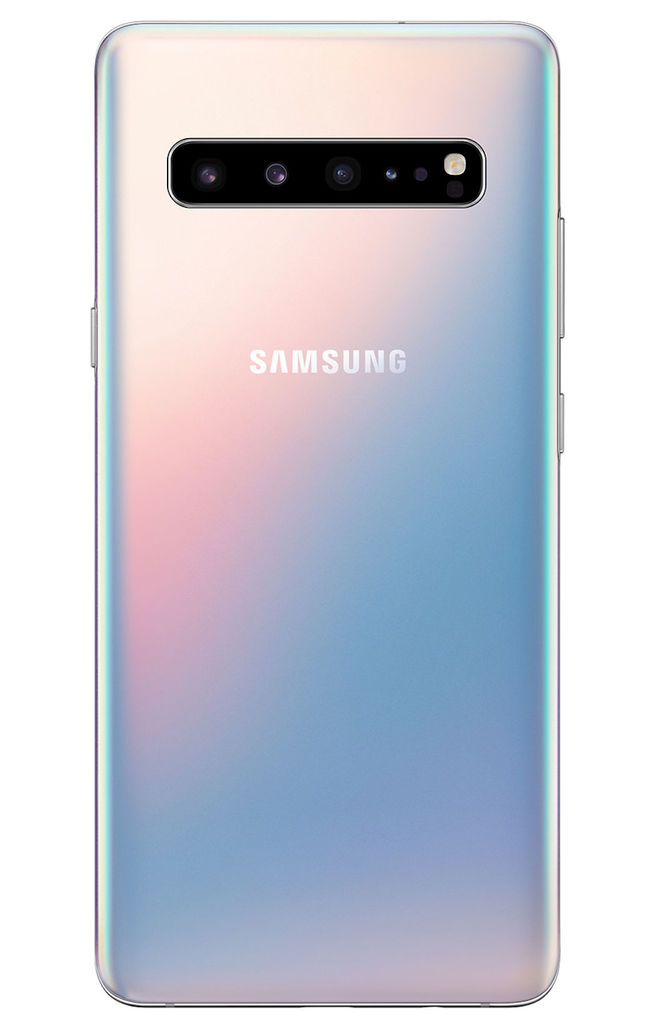 Samsung Galaxy S10 5G
A smaller, slightly lower-priced version, the Galaxy S10e, uses the same 5.8-inch form factor as the regular S9. Priced at £669, this is hardly a bargain for the consumer looking for a sub-£500 deal. The proposition here is that the size is pocket friendly, but you get the latest triple camera.
Wisely at this stage, the fourth S10, the 5G variant, will be a separate product. Vodafone and EE will stock the device for bleeding edge adopters in the UK. This is a 6.7-inch display monster with a larger battery: 4,500mAh capable of fast (25W) charging.
Samsung's spec sheet can be found here – we'll give you hands-on impressions from Mobile World Congress next week.
Summary
So there are no "new" eye-catching innovations here. But like Apple, Samsung promises to package them so they appear safe and risk-free for the consumer. This is no crazy Wild West, Samsung assures us. Its enduring brand and attention to detail – the fit and finish of the UI, for example – are how Samsung will compete with price and spec wars from increasingly confident Chinese manufacturers, led by Huawei.
Last year I gave a warm review to the Galaxy S9 for precisely this reason. Reg readers are also recommenders. "Time-poor" buyers who seek our advice rarely welcome additional complexity in their lives, from gadgets which should by now be mature.
The hardest recommendation of all, though, is whether to suggest buying a 2019 model at all. Music Magpie calculates that the Galaxy S9 has decreased in price by up to 64 per cent over 10 months, more than any previous Samsung. ®