The British government is "sugar coating" its smart meter project and pretending that "everything will turn out alright in the end", according to Parliament's Business, Energy and Industrial Strategy Committee (BEIS).
In a statement, Labour MP Rachel Reeves, chairwoman of the BEIS Committee, accused the government of being "too passive" in forcing smart meter companies to speed up their installation of the latest-spec meters across the north of the UK.
These SMETS2 meters can be used with other suppliers, unlike the earlier-generation SMETS1 units. Think of SMETS2 meters as being like an unlocked smartphone that will work with any mobile network.
Responding to Reeves, government minister Claire Perry MP said the Capita-run monopoly firm which is overseeing the installation of smart meters across the UK, the Data Communications Company (DCC), "have written to the committee to outline the steps that are being taken to increase SMETS2 installations in the North Region". She added that northerners "should see the rate of SMETS2 installations in the North region continue to accelerate".
Back in 2017, The Register exclusively revealed that Dutch smart meter firm EDMI had billed the taxpayer more than £7m to change a single chip in one of its meter designs and comply with the then-new SMETS2 standard.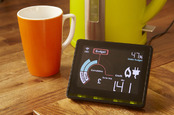 Shocker: UK smart meter rollout is crap, late and £500m over budget
READ MORE
Perry also batted away criticism that the infamous devices were not delivering their promised cost savings by claiming that British Gas smart meter users "are making nearly 4 per cent sustained annual energy savings" – while revealing that UK.gov plans to blow another £192m on a "national engagement campaign" aimed at convincing more Brits to have smart meters installed in their homes.
A clearly unhappy Reeves said in her statement: "The government needs to tackle these problems, get a greater grip on costs, and be much more active in holding energy suppliers and the Data Communications Company (DCC) to account for delivering this programme and within budget. The BEIS Committee will continue to monitor these issues around costs, timescales, and the operability of smart meters and hold the Government to account for their role in getting the smart meter rollout back on track and ensuring that the interests of consumers are protected."
A person who said he was a whistleblower from within Ofgem, the UK energy sector regulator, was also said by Perry to be mounting an appeal against an employment tribunal finding. The case appears to be this one which was reported in The Guardian late last year while the case was ongoing.
The smart meter programme has been criticised regularly by people who say its promised savings will never appear. The government has already accepted that it will miss its original completion date of 2020. ®