This article is more than 1 year old
Neri, Neri, nerr-nerr: Wall St smiles on HPE despite slip in hybrid IT, compute sales
CEO Antonio boasts of big earnings to come
HPE got a boost from Wall Street Thursday even after falling short on revenues for its latest financial quarter.
For the first quarter of its 2019 fiscal year, ending January 31 this calendar year, the IT titan recorded:
Revenues of $7.56bn were down 1.6 per cent from $7.67bn in Q1 fiscal 2018, and slightly short of the $7.6bn analysts had predicted.
Net income of $177m was down from $1.4bn a year ago, largely due to tax write-offs.
Earnings per share of $.42 were up from $.32 last year ahead of the $.35 analysts had estimated.
Hybrid IT revenues of $5.97bn were down 3 per cent from $6.16bn last year. HPE blamed the drop on declines in orders from its tier-one service provider customers. Compute revenues dropped by 3 per cent, while storage was up 2 per cent.
Intelligent Edge revenues of $686m were up 5 per cent from $656m in Q1 fiscal 2018. Aruba products were up 3 per cent, while Aruba services revenue was up 20 per cent.
Year-end earnings-per-share estimates were raised to the $1.56 to $1.66 range.
"Today we reported another strong quarter for Hewlett Packard Enterprise as we continue to execute against our strategy of growing in the Intelligent Edge and delivering profitable growth in Hybrid IT," said CEO Antonio Neri.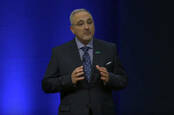 No Meg? No problem! Neri finishes up solid first year atop HPE
READ MORE
"Looking forward, we are confident that HPE's differentiated, software-defined solutions will continue to gain traction with customers looking to harness the explosion of data, driving accelerated revenue growth starting in Q2."
While discussing the numbers with financial analysts on a conference call, Neri looked to shrug off worries that the global economic turmoil from Brexit and the US trade war with China would hit HPE particularly hard.
"From a macro perspective, demand remains steady," Neri said. "Our demand was very steady throughout the quarter."
Investors appear to be happy despite the revenue miss. HPE shares were trading after-hours at $16.65, up 2.6 per cent, after initially shooting up five percent to $17 apiece. ®