Now you've read about the bonkers world of Elizabeth Holmes, own some Theranos history: Upstart's IT gear for sale
Hard drives not included, for obvious reasons
---
Fancy owning a piece of Silicon Valley history? Hundreds of PCs, notebooks, and monitors used by infamous biotech cluster-fuck-up Theranos are set to be sold off following the $10bn-peak-valued biz's collapse.
Liquid Technology, an IT salvaging and shifting outfit in Brooklyn, New York, says it will flog off a huge pile of Theranos gear that includes 550 laptops, 500 PCs, 200 phones, 800 LCD screens, and 4,200 "other items" that were once used by CEO Elizabeth Holmes and colleagues.
All of the PCs and laptops will be sold sans hard drives, as those have been removed and stored as evidence: Holmes is awaiting trial on criminal fraud charges related to the implosion of her blood-testing startup – following more than $700m in investment from the likes of media biz baron Rupert Murdoch, the Waltons, and wealthy US education secretary Betsy DeVos – that could land her up to 20 years behind bars if convicted on all counts. The upstart's president Ramesh "Sunny" Balwani is also charged with criminal fraud, and awaiting trial.
Last March, chief exec Holmes settled out of court a civil lawsuit brought against her by US financial watchdog the SEC, which alleged a "massive fraud." She agreed to cough up $500,000 without admitting any wrongdoing, and is banned from serving as an officer or director of a public company for a decade. Meanwhile, the SEC is pursuing Balwani through the federal district courts, also accusing him of fraud.
Uncle Sam's central beef is that Theranos claimed to investors, doctors, and journalists that it had developed space-age blood-testing systems that would revolutionize the medical world, and that the equipment was being used to analyze patients' samples. However, it appears the company was heavily reliant on bog-standard industry kit because its whizzbang tech just wasn't up to snuff, which suggests shareholders may have been hoodwinked.
Theranos and its management later claimed their breakthrough gear was very nearly ready, it just needed more time, it would process blood faster and better than anyone else, and so on. However, as the SEC alleged last year:
Theranos, Holmes, and Balwani made numerous false and misleading statements in investor presentations, product demonstrations, and media articles by which they deceived investors into believing that its key product – a portable blood analyzer – could conduct comprehensive blood tests from finger drops of blood, revolutionizing the blood testing industry ... Theranos' proprietary analyzer could complete only a small number of tests, and the company conducted the vast majority of patient tests on modified and industry-standard commercial analyzers manufactured by others.
The sale of Theranos' computer gear, acquired by Liquid, is part of the 15-year-old upstart's ongoing liquidation process in the wake of its 2018 shutdown, brought about when it emerged that its tech was apparently a busted flush, investors may have wasted hundreds of millions of dollars on it all, and, oh yeah, the aforementioned criminal and civil charges, filed earlier that year.
Here's some more background info on the Theranos train wreck, if you want to revel in Silicon Valley and the business media world's not-so-finest hour: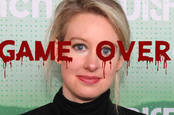 Bad blood: Theranos CEO charged with massive fraud
READ MORE
"At the end of this saga, Theranos found itself left with large amounts of technology they could no longer make use of," Liquid said of how it came into custody of the gear. "As a result, the former multi-billion dollar company found a trusted partner in Liquid Technology, the IT asset disposition (ITAD) specialist."
The sell-off comes amid the publication of grim details of the final months and weeks at Theranos. A Vanity Fair article claims how, even as the company was crashing down around her, Holmes maintained that everything was well at the biotech biz, and a turnaround was still in the cards, while spending stupendous amounts of money on legal bills, PR people, designer gear, rent, a private jet, assistants and bodyguards, and so on.
The founder's baffling behavior included the purchase of a Siberian husky pup named Balto, which Holmes insisted on bringing into the office and labs despite the objection of in-house scientists worried the animal's hair could contaminate patients' blood samples.
One of the more surreal scenes in the report details Balto's flair for impromptu boardroom piddle parties:
Accustomed to the undomesticated life, Balto frequently urinated and defecated at will throughout Theranos headquarters. While Holmes held board meetings, Balto could be found in the corner of the room relieving himself while a frenzied assistant was left to clean up the mess.
It gets better:
Holmes says that she discovered that Balto — like most huskies — had a tiny trace of wolf origin. Henceforth, she decided that Balto wasn't really a dog, but rather a wolf. In meetings, at cafés, whenever anyone stopped to pet the pup and ask his breed, Holmes soberly replied, "He's a wolf."
And better:
Holmes had always enjoyed a certain lifestyle. From the early days of the company, she had insisted on flying in a private jet. As the company's legal problems mounted, its costs skyrocketed, but Holmes had a hard time weaning herself off certain luxuries. She still had her own personal security detail, drivers, personal assistants, and a personal publicist who was on retainer for $25,000 a month, according to one of the former executives. Theranos had an indemnity agreement with Holmes and Sunny Balwani, the company's COO, with whom she had been romantically involved. (They are no longer dating.) Theranos paid all their legal bills, which totaled millions of dollars a month, according to both executives.
We just hope all of the flogged-off IT gear has been given a good scrub-down. ®