Decoding the President, because someone has to: Did Trump just blow up concerted US effort to ban Chinese 5G kit?
Contrarian command-in-chief tweets, world scratches head
Comment President Donald Trump appears to have undermined an increasingly aggressive push by the US government and telcos to pressure the world to shun Chinese equipment in next-generation 5G networks.
In two tweets (what else?) America's commander-in-chief not only questioned the rationale behind snubbing mobile network equipment sourced outside the United States, but also implicitly acknowledged that today's American technology is less advanced than its Chinese equivalent.
He also displayed his trademark ignorance in favor of hyperbole, talking about "6G" even though such technology doesn't exist and won't for a decade or more.
"I want 5G, and even 6G, technology in the United States as soon as possible," he tweeted. "It is far more powerful, faster, and smarter than the current standard. American companies must step up their efforts, or get left behind. There is no reason that we should be lagging behind on...
"...something that is so obviously the future. I want the United States to win through competition, not by blocking out currently more advanced technologies. We must always be the leader in everything we do, especially when it comes to the very exciting world of technology!"
The timing is notable given that it came just before important trade talks with China's vice-premier Liu He take place in the White House, in which the two sides are keen to reach an agreement before higher US import tariffs hit billions of dollars of Chinese goods and ignite a trade war at the start of March.
Given that rhetoric in America over the proposed crackdown on Chinese 5G technology – particularly equipment from Huawei – has reached a fever pitch, it is likely that Trump was responding to a private briefing given to him just prior to the trade negotiations.
Contrarian
As is his habit when presented with an establishment case for action in one direction, Trump used Twitter to belligerently announce his intention to go the other way. In this case, it is fair to surmise he was told that the Chinese delegation would likely raise the topic of 5G networks as a part of negotiations and was given an honest appraisal of the situation: that Chinese technology is considered superior, and Uncle Sam wishes to block its introduction while US corporations play catch-up.
Unusually, there is no mention of "national security" in his tweets, which has been the main reason given by US officials to European allies for freezing Chinese technology out of critical and government networks. The fear, on the US side, is that the hardware is bugged by Beijing, so any intelligence flowing through it can be siphoned off by Chinese spies. Huawei denies backdooring its products for Middle Kingdom's mandarins.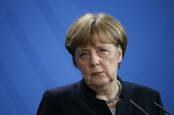 Germany tells America to verpissen off over Huawei 5G cyber-Sicherheitsbedenken
READ MORE
Trump has cited national security concerns to justify tariffs on Canadian steel, German cars, and much else besides. It is possible that widespread mockery of this justification, not least by German chancellor Angela Merkel, has made the notoriously taciturn president sensitive to his frequently used national security argument.
Trump is also keen to reach an agreement with China to prevent a wider trade war. For one, it would enable him to argue that he personally cut a great deal. And second, he is under growing pressure from US industry to de-escalate the situation. If talks do fail, it could be another year before an agreement is reached, at which point any negative consequences could damage his efforts at re-election.
Regardless, the tweets have sown confusion and frustration in an American establishment that has been united in applying pressure on European partners to block Huawei gear in critical networks.
Despite Germany making it plain it doesn't buy the national security argument – with its security services saying in a report that there were unable to find any evidence of backdoors installed by Beijing's spies – and with the UK straightening out its product security concerns with Huawei, this week US Secretary of State Mike Pompeo upped the ante by suggesting that the US would end intelligence-sharing with countries that use Huawei equipment in their critical infrastructure.
Never gonna happen
That would be a disproportionate reaction to the 5G issue. Intelligence sharing is much larger than mobile networks; if the US cut off, say, the UK for deploying Huawei kit, then the UK would almost certainly retaliate by doing the same, and that would cause serious damage to the trans-Atlantic relationship as well as to broader security issues such as terrorism. Right now, the UK government does not allow Huawei kit on any "sensitive" networks.
The truth is that Pompeo is almost certainly bluffing, especially considering the fact he made the statement on telly cable channel Fox Business. But regardless, it shows that the issue has reached the highest levels of government and there is an ideological push to cut Chinese companies out of 5G, at least in Western countries.
Trump, ever the contrarian, has reacted to confidence that his anti-China rhetoric would see him fall behind a call to ban Chinese 5G technology by saying the opposite. It doesn't mean he'll stick with that position, or even remember what his position was if some newer factor come into play.
As ever, the only sure indicator of what the president of the United States' position will be is in what he thinks puts him in the best light. If Trump has decided that reaching agreement with the Chinese government on trade is in his best interests, and if the Chinese government chooses to make 5G an issue in those talks, it is very possible that the concerted effort to shun Huawei equipment disappears overnight.
It is just as likely, however, that these tweets will be lost amid the fog of other similar attention-grabbing declarations. The Chinese delegation confirmed that they would extend their visit, and continue trade talks through the weekend, implying that a deal may be reached. ®