This article is more than 1 year old
Docker to anoint new CFO this week, lures execs from tech giants amid layoffs, hires
CEO of embattled biz tells The Reg: 'Docker Enterprise continues to be our main focus'
Exclusive Docker has been unable to contain itself.
The San Francisco-headquartered company that popularized software containers has been shedding cash and talent as while trying to make the transition from open source innovator to enterprise mainstay.
According to CEO Steve Singh today, however, more people are going to be hired than were recently let go, and the plan is still to be cash flow positive by the end of Docker's current fiscal year, which would be January 31, 2020.
The past two years have been particularly rough. Ben Golub stepped down as CEO in 2017. Co-founder and CTO Solomon Hykes departed in March 2018, about a month after Jérôme Petazzoni, an early software engineer for the company, left. Last month, Patrick Chanezon, chief developer advocate, lured over from Microsoft in 2015, returned to his former employer.
A number of other senior software engineers – Rajat Goel, Rogelio Guzman, Alfred Landrum, and Akshay Vyas – also departed during this period. On forums where employees can discuss goings-on anonymously, it's not hard to find concerns.
Last week, there were layoffs, rumored to have been about 10 per cent of the company staff, though a Docker spokesperson insisted it was less than that. At the same time, the company is bringing on a handful of new executive hires, with an eye toward burnishing its enterprise appeal.
"We did left some people go at the company," said Singh in an interview with The Register. "That said, it's honestly a part of focusing on substantial opportunities to scale our business ... We're actually adding substantially more than what we cut."
Singh, a former SAP exec, has been busy trying to rework Docker to better address the needs of enterprise customers. His challenge is figuring out what Docker can offer that customers can't get elsewhere. Docker (the business) can't make much money selling Docker (the software, confusingly packed into an upstream project called Moby), because it's freely available open source code.
Kubernetes v Swarm
Also, Docker isn't enough: businesses committed to containerized software need an orchestration layer, to manage code containers. Docker intended Docker Swarm to serve that purpose but Kubernetes has become the de facto industry standard, curtailing demand for Swarm.
So Docker must convince customers to adopt its Docker Enterprise platform, to run Kubernetes and Docker in conjunction with governance controls. That may yet work out, but challengers like IBM Red Hat, Oracle, Pivotal and vmWare have waded into the same pond.
The public cloud platforms – AWS, Microsoft Azure, and Google Cloud – could actually help since they will gladly rent their infrastructure to companies running Docker Enterprise.
"The public cloud providers, we don't view them as competition," said Singh. "We view them as very complementary."
In June 2018 at its DockerCon show, Singh said Docker over the past year had doubled its number of Docker Enterprise customers to more than 500. At the time, he forecast Docker would be cash-flow positive during the current fiscal year. The code container company has reportedly raised about $273m in venture funding since 2010.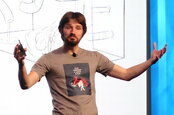 What a Docker shocker: Founder, CTO Solomon Hykes takes a hike
READ MORE
On Tuesday this week, Docker plans to revise its client count upward, to 700 at the end of its fiscal year. The company says its now adding corporate customers at a rate of 100 per quarter.
To continue this trend, Docker plans to formally announce that EVP Brian Camposano has been appointed CFO, a role he's been fulfilling since November 2018 as outgoing CFO Mike Gupta transitioned out.
Also, the biz is bringing in outsiders to focus enterprise sales: Victor Raisys, a former Dell exec, has been hired as EVP and general manager of new markets; Debbie Anderson-Brooke, is leaving corporate public relations at Intel to become SVP of corporate marketing; and Papi Menon, formerly GitHub's director of product management, has joined Docker as VP of product.
Last December, at KubeCon + CloudNativeCon in Seattle, The Register asked several analysts how they saw Docker's future. The most common response was that it would be acquired, possibly by Microsoft.
Chris Short, who first publicized last week's layoffs and writes about devops and serves as an ambassador for the Cloud Native Computing Foundation (CNCF), said as much when The Register spoke to him last year. He still believes Microsoft could be interested though he also considers Salesforce a potential buyer, or even Oracle. Short, who now works for Red Hat, predicted Docker's demise in late 2017, and in his personal opinion, he remains skeptical of Docker's prospects. Absent acquisition, "the most likely option is a slow death," he said in a Twitter conversation.
That may be an overly gloomy assessment. Singh said Docker's purported hiring spree is part of a plan to diversify the scope of Docker Enterprise.
"Docker Enterprise continues to be our main focus but what Docker Enterprise delivers is expanding," explained Singh.
One way Docker has tried to remain vital involves propping up aging Windows apps. In November, the company introduced its a Windows Server Application Migration program, which helps containerize legacy Windows apps for Docker Enterprise customers.
But Windows life support, aka Modernize Traditional Applications, isn't much of a forward-looking strategy.
Opportunities
Singh said he preferred to leave the specifics of Docker's business plan to be disclosed a future events, like DockerCon in April, but outlined three broad areas where he sees opportunities. One is helping companies migrate apps to the cloud; another involves helping organizations define their network edge strategy; and the third involves application re-architecture. He also suggested partnerships will help the company expand its customer base.
In a phone interview with The Register, Blair Hanley Frank, principal analyst with consultancy Information Services Group (ISG), said Docker is in an incredibly interesting position right now.
"On the one hand," he said, "they have a very strong hold on developer mindshare due to their desktop tooling for developers, which is really great. And they're still Docker. They still have the name recognition that comes from helping kickstart the container revolution."
What Docker is trying to do is parlay that legacy into a role as a trusted partner for businesses trying to modernize their application development and deployment, he said.
Pointing to an unpublished ISG survey of 300 IT professionals, Frank said the majority of respondents reported that they have not yet adopted containers in production. "So there's still a lot of room to grow," he said.
At the same time, he cautioned, the market is very different than it was a few years ago and Docker is not the only name in containers.
"This really is a pivotal moment for the company," he said. "They have an advantage to capitalize on, but they've been slow to do it. I wouldn't call them down for the count just yet." ®