New builds and end of life: The cosmic ballet at Microsoft goes on
Plus: Windows Mixed Reality sulks in kitchen while HoloLens 2 hogs limelight
---
Roundup While the Microsoft team were setting up shop at Barcelona's Mobile World Congress (and frantically plugging HoloLens 2 leaks), things continued apace back in Redmond.
Stepping up Windows Insider emissions
While the original version of Windows struggled somewhat with multitasking back in the day, today's team seems determined to push the concept to new heights, flinging out new builds of 19H1 and 20H1 while keeping a multitude of supported versions patched.
Skip-Ahead Windows Insiders, doomed to remain on 2020's Windows 10 unless willing to take a flamethrower to their PC, received a fresh drop of the 20H1 build, taking the version to 18841. The build continues to be light on new features, however, and the gang warned that some things "require a longer lead time".
The more imminent 19H1 build of Windows was also updated at the end of the week, with build 18343 hot on the heels of the zombie-slaying 18342. This close to release, one doesn't expect much in the way of new and shiny, and Friday's fix was all about that pesky Connected Standby issue that had left the build block for some Intel-based machines (Intel64 Family 6 Models 142 and 158).
Little-used hardware that features the chippery include, er, Microsoft's own Surface Go.
Awkward.
Still missing in action is 19H2, which Skip-Ahead users had been expecting. Those multitasking skills will be put to the test in few weeks, when the follow-up to 19H1 finally sees the light of day and Insiders find themselves spoilt for version choice.
.NET Core v1.0 soon to be no more (so come join the cool kids on the upgrade treadmill)
In the same week as emitting a fresh early access build of the .NET Framework, Microsoft also reminded devs last week that its open-source replacement would not be enjoying quite such a lengthy lifespan, even in Long Term Support (LTS) guise.
Build 3745 of the venerable .NET Framework (4.8) saw tweaks to the WCF and WPF as well as a vulnerability dealt with in WorkFlow that allowed "random" code to be executed within certain XOML constructs. The team also applied a fix for the domain-name spoofing vulnerability discussed in CVE-2019-0657, which also found its way into .NET Core.
Don't think that those patches for earlier versions of .NET Core will keep coming forever, though.
.NET Core v1.0 and v1.1 will be dropping out of support on 27 June 2019, after spending three years enjoying LTS, so you'll need to update to .NET Core 2.1, which should last until 2021. .NET Core 2.0 went to End of Life in 2018, just over a year after its release and, as a "current release", version 2.2 will likely take a bullet soon after .NET Core v3.0 ships.
It's a sobering thought. Remember .NET Framework 3.5 SP1? That will be enjoying extended support through to 10 October 2028, nearly 20 years since its introduction.
.NET Core prefers to be somewhat more nimble.
Skype chat sidles over to the right
Microsoft continued fiddling with Skype, a platform users would be forgiven for looking back on fondly while Teams burned last week. This time it was the turn of the chat panel, which usually opened on the left side of the interface during a call, hiding conversation lists.
The gang has shunted it to the right of the screen and made the thing resizable, with those brave souls on the Skype Insider programme the first to get the new toys.
The Skype forums, however, remain rammed full of users bemoaning the loss of the beloved "Classic "interface, which got a visit from the axe man back in 2018.
We, however, have just the one question to ask. That user in the bottom right corner. How is she managing to cuddle her dog, hold the phone in front of her for a video call and message about skiing all at the same time?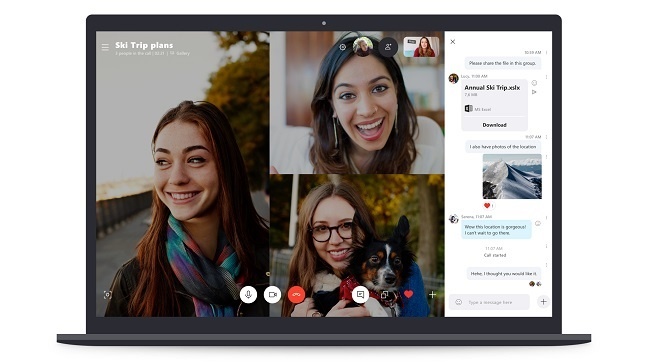 Behold, arranging a ski trip with no hands
Truly, Skype users are a talented bunch. Even if their software occasionally isn't.
Hello HoloLens 2! Now, about that other Mixed Reality thing...
Finally, as Mixed Reality aficionados got their rocks off at Microsoft's HoloLens 2 launch event in Barcelona, Redmond's other foray into virtual worlds got a bit of a kicking last week. Microsoft is reportedly no longer incentivising sales of the headsets through its affiliate programme.
One reading of this change could be that sales of the Windows Mixed Reality headsets are doing so well that incentives are simply not needed. Another might be that Microsoft isn't that bothered any more. Especially now HoloLens 2 is here.
Certainly, the last report from Steam showed the headgear had struggled its way to a whopping 8.9 per cent share of the market. The things are clearly not flying off the shelves.
At some point CEO Satya Nadella, ever the pragmatist, is going to start feeling an itch in his axe-swinging hand. After all, with Xbox steering clear of VR for the time being, and HoloLens aimed at enterprises, it is unclear where the Windows Mixed Reality Headsets now sit in a company that, Xbox aside, has stepped back from consumer tech.
Designs on Azure Analysis Services? Get thee to SQL Server Management Studio
The stillborn Azure Analysis Services (AAS) web designer looks set to be excised from the Azure web portal by 1 March. Introduced back in 2017, the dream was that the browser-based designer would spare users from the horror of SQL Server data tools and simplify the creation of models from Azure SQL Database, SQL Data Warehouse and Power BI Desktop export files (PBIX.)
Alas, it was not to be. Having failed to exit preview, the thing was eventually deprecated in October 2018 as Microsoft struggled to make it work properly. With less than a week's notice, the axe man is now on his way and the team has advised users to make their way back to those SQL data tools for authoring purposes.
Unless, of course, you're using the Import from PBIX feature. Microsoft has acknowledged that the feature enjoyed "significant usage" but experienced "reliability issues" from day one. And now it will be gone. ®