This article is more than 1 year old
Moneybags Buffett on ditching Oracle stake: I don't think I understand where the cloud is going
Billionaire investor says he was burnt by IBM – but is 'amazed' at Amazon's rise
Warren Buffett has told the world he was behind Berkshire Hathaway's decision to ditch its £2.1bn Oracle stake – just a quarter after buying it – because he felt he didn't understand where cloud computing is headed.
The investment firm's stake in the legacy vendor had been sold off by the close of Berkshire Hathaway's Q3, ended 31 December, as confirmed in filings lodged with the SEC last month.
The decision to buy in the stock and offload it so quickly was unusual for Berkshire Hathaway, and initially Big Red's share price fell 2 per cent as a result.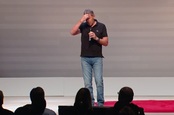 No wonder Oracle exec Kurian legged it – sky darkens as cloudy tech does not make it rain
READ MORE
Buffett has now explained the reason for the quick turnaround, saying he felt he understood less about the cloud business after he bought the shares.
"I've followed it [Oracle] from the standpoint of reading about it but I felt I didn't understand the business," he said in an interview with CNBC.
"Then after I started buying it, I felt I still didn't understand the business – I actually changed my mind in terms of understanding it."
Buffett was careful not to badmouth the firm, saying that billionaire founder and CTO Larry Ellison has "done a fantastic job with Oracle". He added that his experience with IBM – Berkshire Hathaway last year sold all its shares in Big Blue – had influenced him.
"I don't think, particularly after my experience with IBM, I don't think I understand exactly where the cloud is going," he said.
However, in what will likely be a bitter pill for long-time AWS-basher Ellison to swallow, Buffett quickly went on to praise Oracle's cloudy competitors.
"I've been amazed at what Amazon has done, and now what Microsoft is doing as well, but I just – I don't know where that game is going."
Oracle's previous cloud boss Thomas Kurian split last autumn when he made extended leave something a lot more permanent. He now runs Google's cloud services division. ®