This article is more than 1 year old
We'll ask you one more time: Where's our DRAM money?
NAND great. It's going to get worse this quarter
DRAM supplier revenues plunged in the final quarter of 2018, as have those of NAND suppliers, with both quantity shipped and prices paid dropping, industry analyst DRAMeXChange said.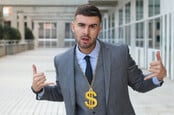 NAND it feels so good to be a gangsta: Only Intel flash revenues on the rise after brutal quarter
READ MORE
The number-crunchers blamed poor server sales and high customer inventory levels.
Samsung was slammed the hardest: its DRAM revenue fell by 25.7 per cent to $9.45bn from Q3, with its market share falling from 45.5 per cent to 41.3 per cent.
Second-placed SK Hynix saw a smaller drop: 12.3per cent, to $7.14bn, with its revenue market share rising from 29.1 per cent to 31.2 per cent.
Number three Micron also saw its market share increase – from 21.1 per cent up to 23.5 per cent, as its DRAM revenues slumped 9.2 per cent to $5.37bn.
Taiwan's Nanya Technology was hammered. This fourth-placed supplier saw its revenues plunge 30.8 per cent to $550m and its revenue share also slumping, from 2.8 per cent to 2.4 per cent.
Fellow Taiwanese firm Winbond Electronics' share was unchanged at 0.7 per cent, despite revenues falling 16.8 per cent to $157m. Powerchip, however, steamed against this tide, seeing revenues increase 10.3 per cent to $93m and its 0.3 per cent third quarter share edge up to 0.4 per cent. However, these numbers are for its branded DRAM sales. Add in its foundry business and the result would then be a nearly double-digit decline from the previous quarter.
The "Others" category was back on trend, with revenues declining 16.7 per cent to $116m while its share stayed flat at 0.5 per cent.
Research outfit DRAMeXChange said it expected results for the first quarter of 2019 to be even worse, due to an increasingly dramatic drop in prices. It estimated the price plunge at between 20 per cent and 25 per cent. ®