This article is more than 1 year old
Up up and Huawei in my beautiful buffoon: Trump sparks panic by tying tech kit ban, charges to China trade negotiations
National security, sanctions allegations, pfft, you don't understand the art of the deal
Efforts to pressure the White House into banning Huawei hardware from America's networks may have backfired.
President Trump appears to have jumped the establishment's tracks, and tied the banishment of the Chinese manufacturer's kit to his ongoing trade tiff with China – meaning any deal hammered out with the Middle Kingdom could lift any restrictions or criminal charges against Huawei.
For the past year, Republicans in Congress, and Uncle Sam's spymasters, have been arguing, without publishing any evidence, that Huawei represents a national security threat as the Chinese government may oblige the company to add backdoors to its products, and thus Beijing's spies can remotely control the devices to snoop on Western citizens, corporations, and intelligence.
As part of that effort, Congress passed the National Defense Authorization Act which instructed all federal agencies to avoid using equipment from Huawei or ZTE.
But in recent months that effort has expanded to trying to pressure European allies to also ban Huawei equipment from critical networks, and there have been efforts to persuade President Trump to sign an executive order that would ban Huawei and ZTE equipment in networks that carry any government data, which could have far-reaching broader consequences in the private sector.
As efforts to prevent a trade war between the US and China have advanced in the past few days, the Huawei ban and even criminal charges against the manufacturer and its chief beancounter have seemingly been put on the table by Trump, alarming officials.
On Thursday, Trump tweeted about 5G and wanting the US "to win through competition, not by blocking out currently more advanced technologies" just prior to entering trade talks China's vice-premier Liu He at the White House.
The next day, Trump appeared to confirm that Huawei had become part of the talks when he told reporters he was going to discuss another possible ban on Chinese equipment with Liu He. "I guess it will be somewhat of a subject… We may or may not include that in this deal," he said.
In response to subsequent questions about the criminal charges filed against Huawei and its chief financial officer, Trump then notably refused to say whether a possible dropping of those charges was also on the table. Instead he said the White House will "be talking to the US attorneys" and his Attorney General about dropping the charges.
One big blur
That blurring of boundaries: connecting national security and criminal charges to a trade deal has caused concerns.
At a briefing on Capitol Hill this week, one of the politicians that has pushed most heavily on the issue, former Republican representative for Michigan, Mike Rogers warned against "any linkage" between the issue, and urged the White House to drop the idea of tying national security and criminal charges to trade "like a hot potato." Others warned that it could send the message that the US justice system is for sale.
Meanwhile, the effort to ban Huawei everywhere has started gaining critics. A former FCC official has criticized the executive order idea banning Chinese equipment on networks that "carry government data" as "too blunt an instrument" which is diplomatic code for "stupid."
Previously the FCC, under political pressure, has said it will look into whether to ban companies that pose national security threats from receiving funds from the multi-billion dollar fund it is using to subsidize the rollout of 5G networks, effectively forcing companies not to use Huawei equipment.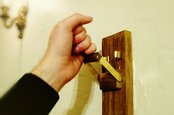 Jeez, what a Huawei to go
READ MORE
European allies have also made it increasingly plain that they don't buy the American national security argument, with both the UK and Germany noting that they cannot find any evidence of a spying program.
Both are being careful not to upset an increasingly irrational US establishment, with the UK saying that China does represent a threat but it will work with Huawei to fix potential issues that its review of the company's source code uncovered. Germany is also avoiding a direct conflict while making it clear that it is not just going to take the US' word for it.
But despite the growing pushback and signs that anti-Chinese rhetoric may have gone too far, some are still aggressively pushing the issue.
This week, senators from both parties wrote a letter to the White House asking it to extend a Huawei ban from 5G network to solar power systems, again claiming that the company's electrical converters pose a national security threat.
The logic is that such converters could be subverted and used in a cyberattack, cutting off power to parts of the US, although you can't help but feel that at this point politicians are flipping through the Huawei product catalogue and wondering what else could theoretically pose a threat. ®