This article is more than 1 year old
So. To the question we really wanted answering: How real is 5G?
We kick the wares in Barcelona
MWC So what's really happening with 5G? And is it proper 5G?
"5G" is an umbrella term that covers all kinds of new network technology, continuing to be developed at various speeds. The industry had to stop the music at some point so a baseline specification could be heralded, and that's what the 3GPP did in mid-2017 with the core radio. The awkward, still embryonic stuff like IoT was thrown into Release 16 (5G phase 2) – which you can see here. That's "real" or "full" 5G.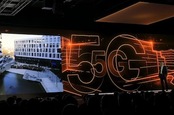 If most punters are unlikely to pay more for 5G, why all the rush?
READ MORE
But how real is the 5G promise? Is it manifest in real working kit?
If you've been following closely, leading vendors have been subtly playing down expectations and that's closer to reality. The missing bits of Release 15 were delayed three months to focus on stability, the 3GPP said at the time.
The 5G being deployed this year doesn't include those missing bits.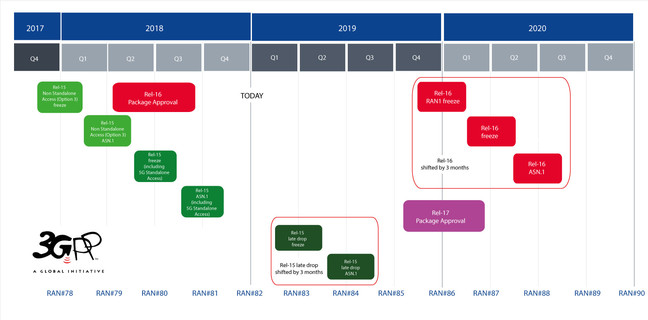 3GPP's 5G schedule. Click to enlarge
Qualcomm is now into its third wave of 5G releases, but more importantly also sells the mmWave (millimetre wave) that the antenna modules require, with up to four at a time supported.
It's a challenging technology that has been hugely problematic, derailed by fog or rain, or the hand covering the phone's antennas. Last year, Qualcomm promised "up to 5Gbps in your smartphone in the first half of 2019" – and it has sort of got there.
The first silicon was the X50 modem, which was then integrated into the SoC in the Snapdragon 855. The star of almost two dozen announcements at MWC was the second-generation 5G modem, the X55, supporting up to 7Gbps down, which should appear in commercial devices at the end of the year. It should be more power efficient, as well as faster. Qualcomm also announced a "5G PowerSave" mode for both the X50 and X55 – a reminder that 5G phones need large batteries to get through a 5G day. Qualcomm has said 5G power consumption should match 4G.
Rollout is also happening "faster than 4G", Qualcomm noted. 4G acquired four launches in year one; 5G has snaffled over 20. However, some caution is needed here: many are very limited deployments, some covering just a handful of cities.
As for speed? Well, it leaves gigabit LTE behind. Both Qualcomm and Vodafone demonstrated similar performance:
Live 5G from Vodafone in the centre of Barcelona. Peak speeds of nearly 1.8Gbps. 4K video beamed from car circling the streets. #MWC19 pic.twitter.com/8hhzxILP6n

— Kester Mann (@kestermann) February 26, 2019
Phew! It's working again but does not seem very stable unfortunately. pic.twitter.com/VOyaPMFQt1

— Ben Wood (@benwood) February 25, 2019
This, of course, used Huawei radio kit, and Vodafone was one of the more conspicuous networks warning that a political ban on Huawei products would set 5G in Europe back "probably [by] two years", according to CEO Nick Read.
Telefónica's CEO, Jose Maria Alvarez-Pallete, feistily pointed out there was "no evidence of wrongdoing" against Huawei.
Ericsson, meanwhile, emphasised the piecemeal nature of Europe. Fewer than half of European countries have yet to hold their 5G spectrum auctions, said Ericsson CEO Borje Ekholm. Italy's fees for spectrum gobble up two years of an operator's total capex, he added. (Italy pocketed €6.5bn in auction fees.)
Intel, which is likely to be supplying Apple with modems, had a huge presence at the event, reflecting a massive investment in 5G. But it won't have 5G silicon ready for phones until next year.
Huawei has previously said it didn't expect mass-market affordable devices until 2021, and that's a good bet. Orange said widespread deployment outside lucrative metro areas wouldn't come – and that's a good bet too.
So 5G is now very real. It's just that "deployment", as in proliferation beyond the initial areas, will be more prolonged, it seems. ®