This article is more than 1 year old
French data watchdog withdraws probe from location data guzzling adtech biz Vectaury
CNIL says firm now collects valid consent, shutters case privacy-watchers hoped would help see off adtech's model
The French data protection agency has ended a probe into digital marketing biz Vectaury that was last year hailed as a potentially fatal nail in adtech's coffin.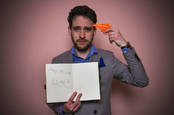 Unearthed emails could be smoking gun in epic GDPR battle: Google, adtech giants 'know they break Euro privacy law'
READ MORE
Vectaury was put on notice by the French agency CNIL in October, on the grounds that the way it gained consent from users wasn't valid under Europe's General Data Protection Regulation – but the agency has today said the firm's methods now meet the bar and dropped the case.
The biz is a demand-side platform, which allows digital ad-buyers to centrally manage multiple ad and data-exchange accounts. It receives, via supply-side platforms and ad exchanges, bids for advertising that will be shoved in front of users.
All of this requires the real-time flow of masses of personal information between many publishers, ad exchanges and third parties and is known as real-time bidding.
Vectaury focuses on mobile advertising, so the information it collects includes geolocation data, mobile advertising identifiers and the version of app a person is using – which all gets bundled up to create user profiles.
After the GDPR was introduced in May, questions over the legality of these transfers increased, and their murky depths began to be challenged. In October, the French agency CNIL warned Vectaury about its consent management platform. These are supposed to allow the user-facing party in the ad exchange process to gain users' consent for others in the chain to process personal data.
However, CNIL found that Vectaury could not prove it had a valid legal basis for processing the data collected from mobile apps via its SDK and data received in real-time bids for inventory on the apps. At the point it was investigated, it had collected data on 67.6 million users from more than 32,000 apps.
At the time, privacy campaigners saw the ruling as evidence that data controllers couldn't rely on partners to get consent on their behalf, and that they would need to ensure consent could be audited across the whole system.
This had major implications for the framework the Interactive Advertising Bureau touts as a solution to the consent problem, and upon which Vectaury had based its own consent management platform.
Here is the bombshell though: Consent through the @IABEurope framework is inherently invalid. Not because of a technical detail. Not because of an implementation aspect that could be fixed. No.
You cannot pass consent to another controller through a contractual relationship. BOOM pic.twitter.com/xMlNHJTKwl

— Robin Berjon (@robinberjon) November 16, 2018
IAB Europe countered this by saying that on many of the points the CNIL said had violated the GDPR, Vectaury had also broken the use policies of its GDPR Transparency and Consent Framework.
"Had the company adhered to those policies, not only would it have been better-placed to meet its obligations under the law, but some of the most problematic of the concerns raised by the CNIL would have been addressed," said CEO Townsend Feehan.
However, the CNIL has now dropped the investigation, saying the mobile apps published by Vectaury partners have been tweaked so they show banners that tick all the right boxes, so to speak.
The banner developed by the company when apps are installed – and before data is slurped – does allow for free, specific, informed and affirmative consent.
Users are informed of the purpose of the data collection (targeted, geolocated advertising); the identity of the controllers (geolocating partners, via a link); and what data will be collected (advertising ID and geolocation data).
They are also told they can withdraw consent at any time, and if they refuse to have location data processed for targeted advertising they can still use the app.
For data gained in ad auctions, the CNIL said it now considers this information is validly collected through what Vectaury said was an "entirely new" solution that ensures traceability of consent.
The firm said it was "delighted" by the decision, and that the "favourable outcome sets a standard for the digital advertising market".
Unsurprisingly, privacy proponents are underwhelmed. Johnny Ryan, chief policy officer at browser biz Brave, who is challenging the IAB over real-time bidding systems for ads in a separate GDPR complaint, said he was disappointed in the original decision anyway.
"Rather than stopping at telling Vectaury it unlawfully had 67.6 million people's data from RTB bid requests, CNIL could simply have asked, 'Who unlawfully sent you these data?'. This further step was essential. But CNIL did not take it," he told The Register.
"Until CNIL engages with this question, it will have to keep a close eye on every Vectaury out there. And that is not practical, because there are hundreds, and perhaps thousands. Vectaury was just one small company, with a mere €3.5m turnover when CNIL investigated it."
Meanwhile, the Twitterati were left to speculate over whether the notices and permissions on apps using the Vectaury SDK were those that had been deemed to be compliant by the CNIL.
Here is what I've found on @meteofrance Ski app. Notice that by default only the Access button is visible, and you have to scroll down to reach the link to advanced settings. pic.twitter.com/rSEVHSVkLA

— Mathieu Cunche (@Cunchem) February 26, 2019
And of course Ryan and his fellow complainants' efforts to curb the IAB's data practices are ongoing, as they challenge the protections offered to that data as it is passed around publishers and exchanges, and what the legal basis is for processing that data, are being considered more broadly by agencies in the UK, Ireland and Poland. ®