Surprise, surprise, yet another cryptocurrency creator collared, hit with $6 million fraud rap
All that glitters ain't gold, as they say
---
The founder of now-dead cryptocurrency My Big Coin has been arrested and charged with seven counts of fraud and unlawful money transfers for what is allegedly an extraordinarily blatant scam, even in the shady world of cyber-cash schemes.
Randall Crater was nabbed in Florida on Wednesday for his part in persuading investors that the digital dosh was backed by real gold coins. Twenty-eight of them handed over a total of $6m – an average of $215,000 – to fund the business, having been told there was a total of $300m in gold behind the operation.
But it was all a scam, US prosecutors claimed this week [PDF]: there were no gold coins. And in an extraordinary display of chutzpah, Crater used the investors' money to buy real gold coins, as well as jewelry and artwork, for himself, it is alleged by Uncle Sam's lawyers.
According to the prosecution, from 2014 to 2017, Crater and two others – listed as Individual 1 and Individual 2 in the criminal filing, one of whom is co-founder Mark Gillespie and the second is someone who "solicited potential investors and customers" – promoted their worthless e-money as "better than the FDIC" – the federal money guarantee – because it was, they claimed, "backed with gold!"
Through its Twitter account, Crater and the company bragged: "My Big Coin has Entered into a Contract where all My Big Coin's will be Backed by 100% Gold."
But, prosecutors say, "in reality, coins were not backed by gold or other assets, were not readily exchangeable virtual currency, and had little to no actual value. Rather, Crater misappropriated more than $6 million of investor money for personal use."
Crater, from New York, allegedly used his windfall to go shopping in the Big Apple, spending $330,000 in multiple visits to one jewelry store and another $500,000 through repeat visits to an auction house, purchasing "antique coins and jewelry, artwork, and decorative figures," according to court filings.
Ponzi?
My Big Coin posted a daily trading price for its cryptocurrency even though it wasn't actually being traded, and made payouts using investor money, effectively running the business as a Ponzi scheme, according to a lawsuit [PDF] filed in Massachusetts in January by customers and investors.
As things began to fall apart, Crater offered more of his company's worthless coins as payment and claimed that it was signing a contract with a larger cryptocurrency exchange, urging customers not to redeem their "gold backed" investments until they were connected to the new exchange, it is alleged.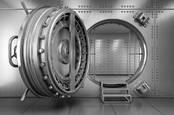 Crypto exchange in court: It owes $190m to netizens after founder 'dies without telling anyone vault passwords'
READ MORE
Crater didn't spend all the investor money on shopping sprees and paying off unhappy customer, however, according to court filings. He also used some of the investors' money to buy a part share in a company supplying medical marijuana, it is said. That company was valued on false claims of having licenses to sell cannabis, according to the investor lawsuit.
As to how he expected to get away with the alleged scheme, My Big Coin was established in Las Vegas, Nevada, where, presumably, Crater hoped to use its gambling laws to bypass corporate responsibility.
The company may also have been hoping to live in the cracks between enforcement agencies. When it was charged by the US Commodity Futures Trading Commission (CFTC) with fraud in early 2018, the biz argued that the CFTC does not have jurisdiction over it because it does not offer futures contracts.
After a legal battle on that point, a federal judge disagreed, and ruled that virtual currency does in fact fall under the definition of a commodity and therefore is under CFTC jurisdiction. The government took the issue to a grand jury, and an indictment complete with arrest warrant [PDF] was issued and sealed on Tuesday.
The next day, it was unsealed as Crater was collared in Florida. He is due to appear in court in the Sunshine State on March 14. ®