This article is more than 1 year old
'They took away our Cup-a-Soup!' Share your tales of bleak breakout areas with us
Go on, join us by the watercooler: we could use a laugh
In 2012 a shaky hand placed a flash drive into a brown paper envelope and addressed it to The Register's London HQ in felt-tip pen. Once we'd shoved the thing into a non-production lappie to ensure it wasn't Anonymous*, vultures kept striding past, mugs in hand, to take a peek.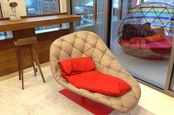 The Register obtains covert snaps of Google's new London offices
READ MORE
"A soft play area with beanbags and stripper poles... and this is in London?" mused one. "What's wrong with the pub?"
A vast array of snapshots of every manner of breakout area and relaxation and chat hubs appeared before our eyes. Why did the door to the staff room look like a prison-grade bank vault? Staff retention? Why the seedy-looking mattresses shoved in the transparent teepee? And Christ – who wants to hunch over a laptop while sat on one of those lumpy-looking beanbags?
Little did we know at the time, but vanguard Google was beginning a trend that would hit the corporate world like a soft, rotten slushie spilled on a burgundy faux velvet rest-mat. It was a perk! A cushion, a jar of communal frequently touched marshmallows, somewhere to eat your lunch while still continuing to slave over that laptop... and none of it very comfortable or pitched at anyone over the age of seven.
Some businesses have got it right. You don't want to sit at your desk all day and it is fun to beat a "I once played professionally" coworker at table tennis – and the freshly brewed coffee (and beer) on tap at The Reg offices often bring smiles to the faces of our crew, who are almost certainly the most "metal" people in our building.
But sometimes, the breakout area punt is aimed so wide of the mark you wonder what imbecile thought it up.
Just this morning we heard that games room retailer Home Leisure Direct was looking for the "UK Office Breakout of the Year" after it ran a survey finding that 65 per cent (really? – Ed) of workers would switch jobs for a better common area.
We thought we'd ask you for its antithesis: the worst breakout room in Blighty – or why stop there – the world!
To start you off, we'll mention that recently, a reader got in touch to let us know that someone had downgraded the staffers' coffee machine to a cheaper, crapper one – while another was distraught to find that the area previously well-stocked with powdered savoury meals now no longer had any, wailing with a slightly broken voice that they had "taken away our Cup-a-Soup!"
We'd like to hear your stories and moans. If you're feeling really naughty, mail us the pics here – we can keep you anonymous with a small "a", if you'd like. ®
* In the hacktivist collective's heyday, El Reg pissed off a small humourless subset of our IRC board pals by occasionally writing funny headlines about them.