This article is more than 1 year old
IBM hunkers down for no-deal Brexit, warns of disruption to supply chain, data transfers
Big Blue 'in discussions with suppliers to ensure that any vulnerabilities are managed'
IBM is battening down the hatches in preparation for a potential no-deal Brexit next month, warning of implications for the movement of data and delays to products landing in the UK.
MPs have already shot down British Prime Minister Theresa May's withdrawal agreement and political declaration that had been endorsed by the EU. Politicians on both sides of the House don't want to leave with no deal but the final outcome remains uncertain.
As it stands, from 11pm on 29 March, the default position will be that EU legislation will no longer apply to Brits and there will be no transition period, one of the potential scenarios IBM planned for.
In this event, the UK will no longer have access to the four freedoms of the EU: movement of goods, services and data, labour and capital across borders.
"The main area of impact [on businesses] would be the freedom of movement of data," IBM said in a post on its Brexit Plan website.
Big Blue processes the data of Brits and EU citizens in the UK as both a data controller and a processor on behalf of clients.
In a no-deal scenario, "movement of data between the EU and the UK would be classed as an international transfer and would require us to utilise one of the mechanisms available under the GDPR to cover international transfer," the company said.
A report on the UK's preparedness for no-deal, published yesterday, treats 29 March 2019 as Brexit day. Although it was prepared before Prime Minister Theresa May said she would allow Parliament to vote on a possible delay, it is obvious many of the problems it lists will not be resolved simply by delaying for a period of weeks.
IBM is baking EU Standard Clauses into client contracts to allow data transfers to "continue uninterrupted". These are contractual clauses in agreements between service providers and their customers to make sure data leaving the European Economic Area does so in compliance with local data laws.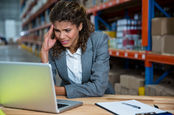 Shortages, price rises, recession: Tech industry preps for hard Brexit
READ MORE
Another area IBM admitted may see some disruption is the supply chain, something the wider tech channel has planned for at length – such is the concern about imports and to a lesser extent exports.
IBM said it remains "in discussions with our suppliers to ensure that any vulnerabilities are managed". Some of this might be out of the hands of tech makers and sellers as the government has yet to make systems fit for use in terms of border checks.
"Our current assessment is that there may be a potential impact to allow for additional import checks or as a result of border delays, but we expect to able to manage these within our existing supply chain," said IBM.
Big resellers told us last autumn that sourcing spare parts could be a particular pain in the ass. IBM said it had "assessed the changes necessary" for the delivery of spares and was increasing local stock to try to meet service level agreements.
Dell, Acer and Lenovo all said they too were planning for the worst-case scenario of a no-deal Brexit. In addition to product shortages, price rises and a downturn in demand could become realities.
Businesses including BMW, Airbus and Siemens have all said they have lower budgets for their UK tech infrastructure this year and the next, and analysts including Gartner and Forrester have forecast a decline in local tech spending. ®