This article is more than 1 year old
Sniff the love: Subaru's SUVs overwhelmed by scent of hair shampoo, recalls 2.2 million cars
Dozens of brake lights broken by chemicals in smells
Japanese automaker Subaru has told the US National Highway Transportation Safety Administration that it plans to recall some 1.3 million vehicles in the US because of emissions problems. It plans to do the same elsewhere in North America and in Japan, bringing the recall total to around 2.2 million.
The issue isn't vehicle emissions. Rather, a chemical compound emitted by certain consumer products like shampoos and cosmetics is being blamed for brake light failures. The company hasn't said whether passengers, mechanics, or others are the source of the chemical.
"This is a voluntary recall of the brake lamp switch, something discovered by Subaru," said Dominick Infante, corporate communications director for Subaru America, in an email to The Register. "It stems from the use of consumer products containing silicone that can seep into the into the brake lamp switch housing and deposit a layer on the switch contact. If the contact switch loses conductivity to terminal, it may result in the rear brake lights not illuminating."
While some reports have implicated perfumes in the brake light malfunction, Infante said it's not clear that perfumes can be blamed. "Perfumed shampoo has silicone, cleaning products with scents have silicone," he explained. "The issue would more likely be linked to cleaning products used around the brake pedals or some other substance that has silicon and that gives off the silicon gas."
He said he was seeking clarification from Subaru Japan, in case something got lost in translation.
Since perfumes tend not to rely on silicone, the culprit is more likely to be scented products – shampoos, skin creams, hair styling substances, or cleaning products – that include silicone-based chemical compounds called siloxanes.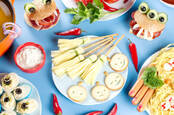 Cheeky cheesemaker fails to copyright how things taste
READ MORE
In product literature from 2012, Japan-based Shin-Etsu Chemical Co. Ltd explains that electrical contact failure – which would prevent brake lights from working – can be caused by a variety of environmental factors, including organic materials, such as human body oils and organic gases, and inorganic materials, such as hydrogen sulfide and ammonia gas. Volatile organic compounds can break circuits too.
"Manufacturers of electric and electronic equipment report that LMW (low molecular weight) siloxane can also cause contact failure at low voltages and low currents," the pamphlet says.
German chemical biz Wacker also observes in its product literature that LMW siloxane has been known to interfere with electrical connections.
Last year, researchers at the University of Boulder, Colorado, published research suggesting that people who use consumer products with siloxane leave a trail of chemicals "comparable in magnitude to the emissions of major components of vehicle exhaust, such as benzene, from rush-hour traffic."
Siloxane has been regarded as generally non-toxic, but some scientists challenge that position, particularly in the context of LMW siloxane.
According to Infante, there have been only a few brake light failures reported: 33 so far. And he stressed that in the rare cases where brake lights fail to illuminate, the brakes themselves are not affected.
Subaru intends to contact affected customers and replace the switch. Affected models potentially include: 2013-2017 Crosstrek; 2008-2016 Impreza; and 2014-2016 Forester. However, not all of these vehicles lines use the same brake switch, said Infante. Notifications, he said, will go out to those with affected Vehicle Identification Numbers. ®