This article is more than 1 year old
God DRAM, that's a big price drop: Memory down 30 per cent, claim industry watchers
Plummeting chip prices are collateral damage from ongoing Intel CPU shortage
The cost of DRAM chips has seen its largest decline in nearly eight years, as global prices fell by nearly 30 per cent.
This is according to DRAMeXchange, which estimated that so far this year, the price of contracts between DRAM suppliers and PC manufacturer took an even greater hit than the 25 per cent that had been forecast.
In addition to falling prices, suppliers such as Samsung and SK Hynix are seeing the contracts they have with computer vendors becoming shorter, with many opting to cut month-to-month deals instead of longer quarterly contracts.
The price decline builds on what was a lousy fourth quarter for DRAM suppliers. The end of the year saw global revenues for the industry tumble by 18.3 per cent as both price and shipments declined.
The blame for the decline is said to rest largely on the shoulders of Intel, which right now is bent on churning out high-end processors for servers to the detriment of its lower-end chips. That means PC makers are building fewer desktop machines because they can't get the Intel CPUs for them, which means fewer DRAM orders, which means stockpiles of desktop-grade RAM chips are building up in the warehouses of the semiconductor suppliers. And that's driving down prices: the supply of DRAM is outstripping demand.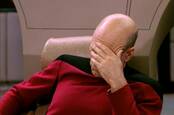 We'll ask you one more time: Where's our DRAM money?
READ MORE
"According to the most recent market observations, inventory levels have kept climbing ever since overall contract prices dropped in the fourth quarter of last year, and most DRAM suppliers are currently holding around a whopping six weeks' worth of inventory (wafer banks included)," DRAMeXchange said in its research note this week.
"Meanwhile, Intel's low-end CPU supply shortage is expected to last until the end of 3Q19, and PC-OEMs are unable to carry out the consumption of DRAM chips under demand suppression."
The report notes that the major vendors, the trio of Samsung, SK Hynix, and Micron Memory Taiwan, should be able to take the hit in stride as they have the cash reserves to weather the storm. Smaller suppliers, however, stand to be hit particularly hard by the downturn and may never recover. Or, y'know, the PC makers could buy some AMD Ryzen parts.
"The rich stay rich — such is the immutable trend of the DRAM market; furthermore, new competitors are aided by a wealth of resources and capital upon entering the market," DRAMeXchange added. "Hence, if smaller DRAM suppliers don't find ways to catch up on production processes and scale, they may risk being marginalized in the near future." ®