The latest quarterly storage systems tracker from industry analyst IDC revealed that hyperconverged uptake did not dent SAN and filer sales, although overall revenue for the sector saw a decent uptick.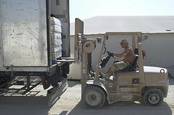 Dell EMC man: Hyperconverged is love, hyperconverged is life, but won't kill SAN yet
READ MORE
The number-cruncher's Worldwide Quarterly Enterprise Storage Systems Tracker for the fourth quarter of 2018 showed that total storage revenues grew 7.4 per cent annually to $14.5bn.
Capacity, however, only grew 1.7 per cent to 92.5EB. Hyperscalers bought less, it appears, as indicated by Original Design Manufacturer (ODM) direct sales falling back by 1.5 per cent to $2.72bn.
Sebastian Lagana, research manager of Infrastructure Platforms and Technologies at IDC, said: "The fourth quarter results represent a slight shift from trends realised during the first three quarters of 2018, most notably the revenue decline for the ODM group of vendors as cloud providers slow their investment due to significant existing capacity."
IDC splits the numbers into total storage, which includes server-based storage and hyperconverged systems, and a separate external storage category, which is just for shared SANs and filers.
Dell and HPE were far and away the largest total storage shipping vendors, with Dell on top at $2.99bn, growing 14.8 per cent and having a 20.6 per cent share. HPE's total storage revenues were $2.6bn, up a miserly 0.6 per cent to an 18.0 per cent revenue share.
Behind these two were NetApp ($842.3m) and IBM ($698.5m) tying for third place with 5.8 and 4.8 per cent revenue shares respectively. IBM's fell 6.5 per cent over the year while NetApp's grew 14.6 per cent.
Huawei, Lenovo and Hitachi tied for fifth place.
Looking at just external storage, Dell is still top dog with $2.35bn revenues, a 30.3 per cent share and a stellar 23l.1 per cent revenue growth rate. The market as a whole grew 12.5 per cent to $7.69bn.
NetApp ($842.3m) and HPE ($813.0m) tied for second place with NetApp growing 14.6 per cent compared top HPE's laggardly 1.2 per cent.
IBM was in fourth place with a 5.1 per cent revenue decline to $681.4m. Hitachi and Huawei follow in joint fifth place.
Charting external storage as a percentage of total storage sales, we see it is rising, not falling as it would do if hyperconverged vendors were taking a chunk out of it: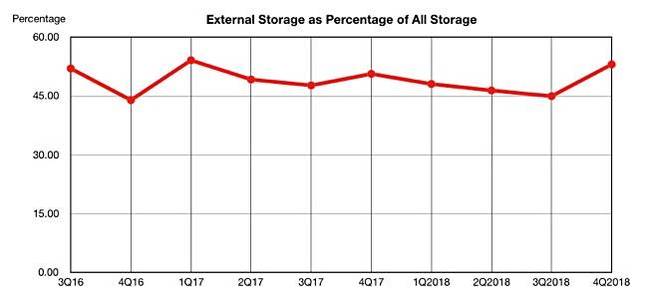 IDC said the total all-flash array (AFA) market generated just over $2.73bn in revenue, up 37.6 per cent year-over-year. The Hybrid Flash Array (HFA) market was worth slightly more than $3.06bn in revenue, up 13.4 per cent from 4Q17.
All-flash arrays – good. HCI – not so much. ®