This article is more than 1 year old
Liz Warren: I'll smash up Amazon, Google, and Facebook – if you elect me to the White House
'They've bulldozed rivals, used our private info for profit' ... yes, yes, but could she actually tackle giants as prez?
Analysis US presidential contender Elizabeth Warren has vowed that if elected she would break up Amazon, Google, and Facebook, accusing the internet giants of abusing their market power.
"Today's big tech companies have too much power," Senator Warren (D-MA) wrote in an essay published on Friday. "Too much power over our economy, our society, and our democracy. They've bulldozed competition, used our private information for profit, and tilted the playing field against everyone else. And in the process, they have hurt small businesses and stifled innovation."
The high-profile Dem, best known for her fierce criticism of banks in the aftermath of the economic crisis, is outlining her main policy ideas in a crowded field of Democratic 2020 presidential hopefuls.
Although Washington DC has discussed action against large tech companies for several months in the aftermath of a slew of scandals, Warren is the first person to directly advocate for breaking them up.
She offers the antitrust actions taken against Microsoft in the 1990s as a template for breaking up the next generation of tech giants, and argues that Facebook, Google and Amazon in particular are using their dominance in one market to carry out anti-competitive actions in others.
Her approach would see tech platforms designated "platform utilities" through legislation and then any arms of existing companies that operate on top of those platforms could be broken away from the main utility.
Platform utilities would not be allowed to transfer or share data with third parties, and the designation would be applied to any company that has a global revenue of $25bn of more and offers a public marketplace, exchange or platform.
So, for example, Amazon would be allowed to continue to own and run its dominant ecommerce platform – which accounts for an extraordinary 50 per cent of ecommerce in the US. But would not be allowed to own its Amazon Basics and Amazon Marketplace products, which compete with others on the platform and, according to Warren, have a clear competitive advantage.
Likewise, Google Search would be designated a platform utility and so the company would be required to break off its Google ad exchange.
Mergers and acquisitions
A second related action would see mergers viewed as anti-competitive blocked and in some cases unwound. Warren lists some specific examples: Amazon and Whole Foods, Zappos; Facebook and WhatsApp, Instagram; Google and Waze, Nest and DoubleClick.
"I will appoint regulators who are committed to using existing tools to unwind anti-competitive mergers," she wrote, arguing: "Unwinding these mergers will promote healthy competition in the market  -  which will put pressure on big tech companies to be more responsive to user concerns, including about privacy."
And to make the actions stick, Warren proposed a European GDPR-style fine of five per cent of annual revenue (which is actually larger than the GDPR maximum of four per cent.)
It is a bold position – and one that marks Warren out from her competition. And, naturally, it has already picked up fierce opponents and defenders.
Think-tank the Competitive Enterprise Institute (CEI) called the idea a "doomed regulatory experiment" and claimed there were no current barriers to entry in the internet space.
Likewise, tech trade group NetChoice – which includes many tech giants amid its members – said that Warren's ideas would "increase prices for consumers, make search and maps less useful, and raise costs to small businesses that advertise online."
In defense of the plan there is Public Knowledge, which argued that "the time has come to engage in a serious debate about sector-specific regulation of digital platforms" and said legislation that focused on increasing competition on digital platforms was needed.
And internet advocacy group Demand Progress tweeted its support, arguing that "momentum is building to take back our democracy from the tech giants. This is a landmark proposal whose time has come."
So... good idea, or not?
The two big questions surrounding Warren's proposal are: is it needed? And is the best way to achieve it?
There is little doubt that something needs to be done to pull back what have been clear abuses of market power. Facebook has become a law unto itself and has repeatedly abused its users' trust when it comes to sharing personal data, yet feels sufficiently empowered to continue its behavior, misleading lawmakers and users and in some cases outright lying about its actions.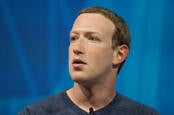 Correction: Last month, we called Zuckerberg a moron. We apologize. In fact, he and Facebook are a fscking disgrace
READ MORE
The reason Facebook is able to run roughshod over the clear concerns of users and legislators is its near total dominance of social media: there is no easy alternative to its service for connecting and sharing information online.
Facebook is not like Google search or Amazon's marketplace however: despite its determined efforts, Facebook is still not a place people go to buy products and so there is little chance for it to edge out third parties.
Warren claims that Facebook willingness to buy and takeover any company that threatens its dominance in its market – WhatsApp and Instagram being the obvious examples – has resulted in people simply not bothering to create possible alternatives to Facebook.
For some reason, she doesn't mention Snapchat – a viable competitor that has seen its most original ideas copied almost instantly by Facebook as a way of blocking its growth. And while VCs used to throw money at startups in the hope they would one day get bought by Google or Facebook, that approach does appear to have ended – or at least slowed considerably. Facebook is now more likely to copy and squash a competitor than take it over.
If nothing else, the fact that Facebook has been shown to be a morally bankrupt company and yet users constantly opine that they don't really see an alternative is a sign that the market is distorted.
But the question is whether Warren's approach is the right one. Privacy legislation that obliges Facebook to not abuse its position could be just as effective and wouldn't rely on the federal government deciding how markets should be structured.