No guns or lockpicks needed to nick modern cars if they're fitted with hackable 'smart' alarms
Vulnerable kit can immobilise motors and even unlock doors
---
Researchers have discovered that "smart" alarms can allow thieves to remotely kill your engine at speed, unlock car doors and even tamper with cruise control speed.
British infosec biz Pen Test Partners found that the Viper Smart Start alarm and products from vendor Pandora were riddled with flaws, allowing an attacker to steal a car fitted with one of the affected devices.
"Before we contacted them, the manufacturers had inadvertently exposed around 3 million cars to theft and their users to hijack," said PTP in a blog post about their findings. The firm was inspired to start looking at Pandora's alarms after noticing that the company boasted their security was "unhackable".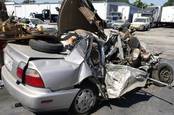 Auto manufacturers are asleep at the wheel when it comes to security
READ MORE
Thanks to an unauthenticated corner of the service's API and a simple parameter manipulation (an indirect object request, IDOR), PTP said they were able to change a Viper Smart Start user account's password and registered email address, giving them full control over the app and the car that the alarm system was installed on.
All they had to do was send a POST request to the API with the parameter "email" redefined to one of their choice in order to overwrite the legitimate owner's email address, thus gaining access and control over the account.
PTP said that in a live proof-of-concept demo they were able to geolocate a target car using the Viper Smart Start account's inbuilt functionality, set off the alarm (causing the driver to stop and investigate), activated the car's immobiliser once it was stationary and then remotely unlocked the car's doors, using the app's ability to clone the key fob and issue RF commands from a user's mobile phone.
Even worse, after further API digging, PTP researchers discovered a function in the Viper API that remotely turned off the car's engine. The Pandora API also allowed researchers to remotely enable the car's microphone, allowing nefarious people to eavesdrop on the occupants.
They also said: "Mazda 6, Range Rover Sport, Kia Quoris, Toyota Fortuner, Mitsubishi Pajero, Toyota Prius 50 and RAV4 – these all appear to have undocumented functionality present in the alarm API to remotely adjust cruise control speed!"
Both Pandora and Viper had fixed the offending IDORs before PTP went public. The infosec firm noted that modern alarm systems tend to have direct access to the CANbus, the heart of a modern electronic vehicle.
A year ago infosec researchers wailed that car security in general is poor, while others discovered that electronic control units (ECUs), small modular computers used for controlling specific vehicle routines that were done mechanically years ago, were vulnerable to certain types of hack even with the engine off and the car stationary. ®