Installing broadband fiber is a complex and expensive activity, though it may have got a little bit more so, for Google at least, following a lawsuit in America.
Motorcyclist Hans Newsom is this week suing [PDF] Google Fiber and its local contractor in his hometown of Kansas City, Missouri – after a trench, dug to install the ad giant's fiber cabling, was allegedly left uncovered in the middle of the road, causing him to ultimately fall off his ride.
Newsom claims he was heading to a friend's house around 11pm on a Sunday night, and was, by his account, going extremely slowly – just 5mph – "because the area was poorly lit and he was unfamiliar with the roads and traffic." Despite his precautions, however, as he turned right into North McGee St "suddenly and without warning his front wheel dropped down into a deep rectangular hole that had been cut in the asphalt" – a trench dug to install Google's pipes – according to his Jackson County court filing, at least.
The biker claimed that the sudden dip caused him to lose control of his bike – a Harley Davidson, he noted – and made him hit the curb. "Plaintiff became pinned between the motorcycle and the curb," the lawsuit paperwork alleged.
As luck would have it, a friend saw the accident, freed him, and took him to ER where he was "diagnosed with a tangential displaced fibula fracture" – basically, he broke the lower part of his leg. Not only that, but after an MRI, he was told that there had also been "a complete rupture of the anterior talofibular ligament and medium-sized tibiotalar joint effusion." He'd snapped his ankle.
Newsom claimed there were no signs warning him about the hole, and implied that others had already complained about the trench to no avail. He wants $75,000 to cover his costs and what he claims is negligence on the part of the company that dug the ditch for having failed to rope it off or add some signage.
Why the wait?
There are two unusual details: the crash apparently happened in April 2015, and Newsom didn't file his lawsuit until now – nearly four years later. And the judge given the case, the Honorable Gary A. Fenner, declined to accept it citing a conflict of interest.
So far the biz that dug the trench – Ervin Cable Construction – has yet to respond beyond a filing to the court that stated, and we're paraphrasing here, "we have no idea what happened," and gently suggested that the biker may have broken his leg and knackered his ankle somewhere else. A spokesperson for Google was not available for immediate comment.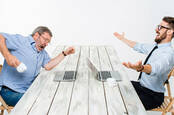 High-speed broadband fiber in America: You want the good news or bad news first?
READ MORE
Of course, if Newsom had been riding around 500 miles to the east, in Louisville, Kentucky, he'd probably have been much luckier. Louisville is where Google tested out a revolutionary "micro trenching" technique where it dug just a few inches into the ground to lay down its cable.
Unfortunately, it found out that digging a trench that shallow meant that a few months later, the cables popped up and lay over the road. But it is less likely that a Harley would go crashing into one. Google has since abandoned Louisville and stopped rolling out more cable. We're not saying that Google cut corners with its fiber efforts, but, you know, it doesn't look like it did the best job either.
We await a lawsuit from someone who tripped off a Google Fiber cable, smashed their face in, and got a nasty hospital bill to contend with. Laying fiber is a dangerous activity, folks. ®