This article is more than 1 year old
Back to ASICs: Nvidia coughs GPU-uge $6.9bn to scoff Mellanox
Consolidation in the chip industry as the geepie giant eyes new markets
GPU giant Nvidia is to cough $6.9bn for chipmaker Mellanox, known for its data centre networking kit and InfiniBand interconnect tech widely used in HPC.
Sunnyvale-based Mellanox is a hot property - businesses reported to have been interested in getting their hands on its silicon include Microsoft, Xilinx and Intel.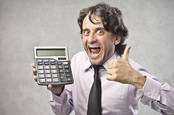 This LAN is your LAN: Storage world still keen on high-speed Ethernet, luckily for Mellanox
READ MORE
Mellanox is a fabless semiconductor house - it designs ASICs, which are then made by Taiwan Semiconductor Manufacturing Corporation (TSMC). The company was established in Yokneam, Israel - where much of its R&D is located - in 1999, but is headquartered in Silicon Valley.
Its InfiniBand interconnect provides one of the fastest ways to link together individual servers, competing with Chipzilla's Omni-Path technology.
Mellanox's InfiniBand tech can be found inside both Summit and Sierra – ranked as the world's first and second most powerful supercomputers in the latest Top500 list, published in November. The interconnect also supports RDMA - a tech that enables sharing of memory resources across disparate servers, which is experiencing something of a resurgence.
The InfiniBand maker has seen an uptick in demand for its products from both enterprise customers and hyperscale cloud operators, reporting $1.1bn in revenues in 2018, up 36 per cent year on year, and $134.3m in profit. That was a marked improvement on the previous year, when it lost $2.6m.
In typically understated fashion, Nvidia's founder and CEO Jensen Huang claimed the acquisition would enable the company to "invent the computers of tomorrow".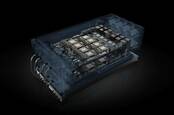 If you have cash to burn, racks to fill, problems to brute-force, Nvidia has an HGX-2 for you
READ MORE
The Santa Clara giant made its fortunes by selling purpose-built silicon to PC gamers, but the rising popularity of AI workloads in HPC environments and corporate data centres has supercharged its enterprise business segment, and even led the company to design its own server range under the DGX brand.
"The emergence of AI and data science, as well as billions of simultaneous computer users, is fuelling skyrocketing demand on the world's data centres," Huang said. "Addressing this demand will require holistic architectures that connect vast numbers of fast computing nodes over intelligent networking fabrics to form a giant data centre-scale compute engine." ®