This article is more than 1 year old
Alphabet top brass OK'd $100m-plus payouts to execs accused of sexual misconduct – court docs
Lawsuit accuses Page, Brin et al of harassment cover-up
Google co-founders Larry Page and Sergey Brin allegedly signed off multimillion-dollar payouts to senior execs accused of sexual misconduct, according to freshly unsealed court submissions.
The complaint (10.2MB PDF), which was published by the Santa Clara Superior Court's website yesterday, was filed in a case brought by shareholder James Martin at the start of the year.
The suit names the company and its directors, alleging their "active and direct participation in a multi-year scheme to cover up sexual harassment and discrimination at Alphabet". The alleged misconduct has caused severe financial and reputational damage to both Google and Alphabet, it said.
The complaint's claims follow reports in the New York Times that Android creator Andy Rubin was given a $90m payout and a "hero's farewell" when he left the company in 2014, despite being accused of harassment.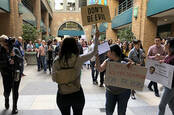 This revolution will not be televised – but it will be sanctioned: Googlers walk out over 'sex pest' executive scandals
READ MORE
The court filing also claimed that Alphabet's board was "directly involved in and approved" this package – and that a similar approach was taken with Google's SVP for Search, Amit Singhal.
Singhal was said to have been allowed to "quietly resign" in 2016 "in the wake of credible allegations of sexual harassment", and was handed a severance package totalling multiple millions.
According to the complaint, the plaintiff submitted a shareholder inspection demand, which saw Google produce documents indicating a committee had agreed in January 2016 to a package that included "annual cash payments of $15m, to be paid 12 months and 24 months after exit, and $5m (negotiating range to $15m), to be paid 36 months after exit".
However, this was contingent on Singhal not being employed by a competitor, and so his move to Uber meant he missed out on a chunk of the cash. He was later dismissed from the taxi-app biz for failing to disclose the sexual misconduct inquiry that was ongoing at Google.
The complainant sought to emphasise that the board had been directly involved in the pay packages and claimed it had thus "made a conscious and intentional (and bad‐faith) decision to conceal the sexual harassment at Google, thereby also breaching its duties of candor and good faith".
Google, the suit also claimed, asked victims of sexual harassment to "stay quiet" when their allegations were deemed to be credible – citing an accusation brought by a potential employee against a rising star, Richard DeVaul of Google X.
In addition, it said that by failing to explain the real reason Rubin had left Google in its statements at the time to the SEC, Alphabet had effectively filed "materially false and misleading" financial statements with the authority.
After claims that senior execs were covering up credible sexual harassment allegations hit the headlines, large numbers of Googlers staged a walkout in November 2018.
"What do I do at Google? I work hard every day so the company can afford $90,000,000 payouts to execs who sexually harass my co‐workers," read one placard quoted in the court filing.
Although some action was taken and apologies made, Googlers were still unhappy, in particular about Rubin's mega-bucks payout, and pushed for more measures, including an end to forced arbitration for such cases, which was eventually granted.
The complaint calls for Alphabet and Google to reform corporate governance and internal procedures to comply with laws and for various conditions to be placed on the board.
Google said in a statement: "There are serious consequences for anyone who behaves inappropriately at Google. In recent years, we've made many changes to our workplace and taken an increasingly hard line on inappropriate conduct by people in positions of authority." ®
The case is James Martin (on behalf of ALPHABET INC) v Larry Page et al, 19-cv-343672, in the California Superior Court, Santa Clara County (San Jose).