US application delivery specialist F5 Networks has bought Nginx, the company responsible for commercialising the eponymous open-source software toolkit beloved by web administrators.
Nginx (the toolkit) was originally created in 2002 to serve Rambler (then Russia's second-largest website) and open-sourced in 2004. It integrates web server, application server and load balancer functionality, and is considered a viable alternative to Apache Web Server.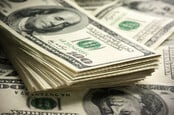 NGINX scores $20 MEELLLION to remind people it sells stuff
READ MORE
According to a survey by Netcraft published in December 2018, approximately 25.89 per cent of the world's one million busiest sites use Nginx.
Under the terms of the deal, F5 will pay $670m for Nginx (the company) and keep CEO Gus Robertson, original author Igor Sysoev, and VP of Engineering Maxim Konovalov.
Seattle-based F5 deals in application delivery and network security. The company originally started with load balancing, but soon moved into areas like DDoS protection and app authentication, and more recently application delivery across multiple public clouds.
François Locoh-Donou, president and CEO of F5, claimed the latest acquisition will help "bridge the divide between NetOps and DevOps with consistent application services across an enterprise's multi-cloud environment".
He added: "The combined company will enable every customer – from the app developer to the network engineer to the security specialist – with the tools they need to ensure their apps are available and secure across every platform, from the enterprise data centre to private and public clouds."
The deal will supposedly speed up integration between software from F5 and open-source projects.
It's worth noting that since around 2013, Nginx (the company) had been involved in something of a controversy over divergence of the free and commercial versions of its product, the latter known as Nginx plus. As a newly minted, VC-backed startup, it was criticised for shifting to an "open core" model; not just charging for support, like most open-source organisations, but actually adding "closed source" features to its commercial product. Famous examples of open-core software include Oracle's MySQL.
A short trawl through comments about the Nginx buy suggests the open-source community is treating this latest announcement with reasonable caution. ®
Bootnote
Yes, we ignored the fact that some people pronounce it "Engine-X" (or Nuh-ginks?) in order to entertain you with our headline. We're sure you'll weigh in on the comments forum in 5... 4... 3... 2 Jinx. Double-jinx! Go on – put out your arm for the punch.