Just Android things: 150m phones, gadgets installed 'adware-ridden' mobe simulator games
Devs may have been duped into using dodgy SDK, tut-tuts infosec biz
Android adware found its way into as many as 150 million devices – after it was stashed inside a large number of those bizarre viral mundane job simulation games, we're told.
The so-called Simbad malware was built into mobile gaming titles such as Real Tractor Farming Simulator, Heavy Mountain Bus Simulator 2018, and Snow Heavy Excavator Simulator, according to infosec research biz Check Point today.
Each of those named apps had more than five million installs at the time the research was carried out, with Snow Heavy Excavator Simulator having been downloaded more than 10 million times. In total the malware was found in 210 seemingly legitimate apps, which have now been pulled from the Google Play store.
Although researchers believed that the titles were legitimate, they said they thought the devs were "scammed" into using a "malicious SDK, unaware of its content, leading to the fact that this campaign was not targeting a specific country or developed by the same developer."
Once installed, the malicious Simbad SDK phones home and starts embedding itself on the user device to prevent removal, and would start fetching and displaying ads to generate revenue. Anti-removal techniques it uses include "removing the icon from the launcher," displaying background ads during normal phone usage, and forcing the device's browser to open a given URL.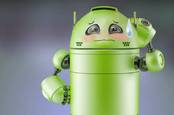 'Mummy, what's felching?' Tot gets smut served by Android app
READ MORE
"SimBad has capabilities that can be divided into three groups – Show Ads, Phishing, and Exposure to other applications," said Check Point in its summary of the research. "With the capability to open a given URL in a browser, the actor behind SimBad can generate phishing pages for multiple platforms and open them in a browser, thus performing spear-phishing attacks on the user."
The malware's command and control server runs an off-the-shelf install of Parse Server, an open source version of the Parse Backend mobile app infrastructure software.
With its capabilities including opening targeted URLs in the browser, something which could be used to present a user with a fake login page, Check Point noted that "already has the infrastructure to evolve into a much larger threat."
So now people have to go through the list of applications and remove them to get rid of the malware, so get busy all you players of Beard mustache hairstyle changer Editor (over one million downloads amazingly).
Google should also take another look at its malware scanning systems. While the Chocolate Factory claims that its AI-powered code checkers booted out 700,000 malicious apps in 2017, it's clear the ad giant is still asleep at the switch. ®