This article is more than 1 year old
China still doesn't want iPhones despite Apple slashing prices, say market watchers
Wanted: A cheap model?
Price cuts in China have not helped revive demand for Apple's iPhone according to an analyst firm cited by Bloomberg.
Longbow Research used searches on China's dominant search engine, Baidu, to draw its conclusions, reckoning that year-on-year, interest had fallen by 47 per cent from 2018.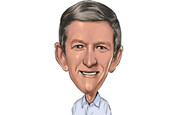 Peak Apple: This time it's SERIOUS, Tim
READ MORE
It's an approach that needs to be taken with a bag of salt, however. Demand for consumer products crashes ahead of the Chinese New Year every year. Some 25 per cent of tech employees use the occasion to change jobs, too. Buying takes a back seat. As a proxy for demand, it's imperfect.
However, investment bank UBS also saw demand flat, using sell-through data. It painted a slightly rosier picture.
Apple blamed weak demand in China for a profit warning on 2 January but denied its models were overpriced.
Both Cupertino and Samsung, among others, have increased the cost of their flagships as average selling prices in the sector have declined overall. The difference is Samsung sells devices at a broad range of prices, while Apple has removed its sub-$500 offering, the iPhone SE.
Just a thought, but maybe it should think about bringing it back. ®