This article is more than 1 year old
Can't do it the US way? Then we'll do it Huawei – and roll our own mobile operating system
Just a plan B, claims Chinese giant, in case we get cut off from Android, Windows
Huawei is building its own proprietary operating system platform in case the United States tries to isolate the manufacturer by cutting off access to Windows, Android, and other American-built software ecosystems.
The admission came in an interview with Huawei's mobile chief Richard Yu with German newspaper Die Welt. Yu said that the equipment maker would only fall back on its OS as a Plan B if it is prevented from using operating system platforms overseen by US organizations.
It's not clear how far Huawei has progressed with its fall-back operating system, however, Yu implied it already has a first version ready. He was asked: "Are you thinking about building your own operating system so that your smartphones are not Google-based and computers are not Microsoft-dependent?"
And he responded: "We have prepared our own operating system. Should it ever happen that we can no longer use these systems, we would be prepared. That's our plan B. But of course we prefer to work with the ecosystems of Google and Microsoft."
The news is a sign that Huawei expects the United States to keep escalating its efforts to remove Huawei's equipment from mobile networks both in the US and in Europe. Earlier this month, Huawei sued the US government to overturn a ban on its equipment in federal agency networks.
American officials have repeatedly claimed that Huawei represents a national security risk, and that its gear could provide Chinese spies secret backdoors into the world's next-generation communications networks. But in-depth reviews by the Germans rejected that argument.
Economic interests
What is more likely is that the US is trying to protect its economic interests: Huawei's equipment is 20 per cent cheaper that American equivalents, according to our industry sources, and is claimed be more technologically advanced. What really worries the US government and telecoms operators is that China will do exactly what Huawei is currently worried the US will do, and cut off American companies from underlying technology.
If Huawei ends up underneath most 5G networks, to some extent it gets to dictate how those networks are built and evolve in future and that could, theoretically, lead to US companies being blocked, or at least handicapped.
"We can not sell our smartphones in the US," Yu noted, before adding that the ban hasn't had much impact on its business or market share because the US represents only one part of the global market.
That could be, conversely, why the US is going to such lengths to stop Europe from adopting Huawei, including explicit threats to cut countries off from US intelligence gathering on the pretext that such intelligence could be compromised by insecure networks running on Huawei equipment. Buy American, or else.
This week German chancellor Angela Merkel pointedly noted at a press conference in Berlin that Germany decides its own standards, thank you very much. The UK government has, for now, banned Huawei kit from its core networks, though it is working with the Chinese goliath to iron out security weaknesses found during audits of its products source code and blueprints.
Huawei meanwhile is going out of its way to appear reasonable and push for cooperation. "The US economy benefits from us. Nobody can do it all alone in this industry. Everyone has to work with other companies," Yu argued.
Progress?
It's also clear that Yu was not speaking off the cuff but was authorized to reveal Huawei has an operating system ready to go. Asked about his comments, the company admitted that it had started building its own operating system in 2012 when the US first opened an investigation into Huawei and fellow Chinese manufacturer ZTE.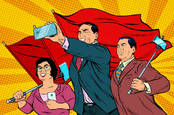 You won't get Huawei with this, America! Chinese giant sues US government over 'unconstitutional' ban
READ MORE
And a spokesperson noted: "Huawei does have backup systems but only for use in extenuating circumstances. We don't expect to use them, and to be honest, we don't want to use them. We fully support our partners' operating systems… Android and Windows will always remain our first choices."
It may seem unlikely that Huawei has developed an operating system platform as advanced as Android or Windows in just five years from scratch. However, a modern OS is a well-understood problem that computer and software engineers know how to solve, plus Huawei has a huge skilled workforce, and there is no doubt the company has the necessary coding expertise to produce one.
For one thing, it built a lightweight Internet-of-Things OS called LiteOS out of nowhere, so it's no stranger to operating system development.
It could, of course, use Linux or the Linux-based Android open-source project or one of the BSDs or other open-source kernels, and build up from there, to create its new operating system.
To use a mountain climbing analogy, though, writing or choosing a kernel is like reaching base camp: next comes the long slog to the summit, developing all the apps on top and fostering an ecosystem of third-party software as you ascend. Hence why Yu says he'd "prefer to work with the ecosystems of Google and Microsoft" – crafting a base OS is one thing, creating a viable platform is orders of magnitude more difficult.
Theoretically, Huawei could create a better, tighter operating system platform since it would not be encumbered by generations of previous code, and could support just its own hardware, like Apple's iOS just runs on Cupertino's gear, reducing the amount of driver code needed and easing support desk burdens. But then it's just as likely that it has effectively copied the approach taken by Android and/or Windows because it's what users expect.
It's impossible to know. But it does demonstrate that Huawei is not going to lie down and roll over – and it opens up the possibility that Chinese companies could do more that just dominate 5G networks; they could, if pushed, cut into the near complete dominance of American operating systems. ®