Following 'stellar' flat sales growth, operating profit dip, Oracle says it has 1,000 Autonomous Database customers
Ellison insists Oracle Cloud is less expensive, more secure than AWS – which is why, er, so many people are flocking to it
---
Oracle on Thursday reported revenues of $9.6bn for fiscal Q3 2019 – which is about what analysts anticipated and prompted the stock to bounce up and down indecisively in after-hours trading.
For those three months to February 28, GAAP EPS increased to $0.76, or $0.87 non-GAAP, which is up eight per cent from $0.80 non-GAAP in fiscal Q2 2019.
Analysts had expected $9.59bn in revenue and EPS of non-GAAP $0.84. The database giant has come in ahead of predictions more often than not over the past two years.
Oracle stock closed at $53.06 per share on Wednesday, a record high. Part of the stock's buoyancy has been attributed to the company's aggressive repurchase of shares, particularly over the past year. On February 12, the company told the SEC it has added $12 billion to its share buyback program.
Oracle on Thursday deployed an additional fiscal flotation device in the form of an inflated common stock dividend, now at $0.24 per share, up from $0.19 per share.
Revenue growth, on the other hand, has been largely flat, which is to say down one per cent or up three per cent in constant currency compared to fiscal Q3 2018.
Oracle co-CEO, Safra Catz said in a statement she was pleased with the results. "Our overall operating margin improved to 44 per cent as our lower margin hardware business continued to get smaller while our higher margin cloud business continued to get bigger," she said, noting that the company is positioned to deliver another year to "comfortably deliver another year of double-digit EPS growth."
In June 2018, Oracle stopped reporting its cloud revenue separately, making it more difficult to discern how the company is doing in its cloud business.
On a conference call for investors, Catz said, "Cloud is now more than double what it was three years ago."
Mark Hurd, also-CEO, celebrated the "stellar quarter" and recounted a number of customer wins while highlighting growth in the company's Fusion and NetSuite applications.
The company's major business segment, cloud services and license support, brought in $6.7bn in revenue. That's up one per cent, or four per cent in constant currency, compared to the same quarter a year ago. Its cloud license and on-premises license segment accounted for $1.3bn, a four per cent decline, or flat in constant currency.
Hardware revenue came in at $915m, down eight per cent, or four per cent in constant currency year-on-year, while services contributed $786m, down one per cent, or up three per cent adjusted for currency fluctuations.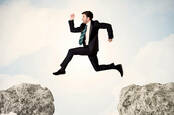 Not a great day for Oracle: Top cloud exec jumps ship, analyst recommends cutting shares
READ MORE
GAAP operating income increased three per cent to $3.4bn, while GAAP operating margin pretty much remained the same at 35 per cent (it was 34 per cent a year ago). GAAP net income increased to $2.7bn, up from a $4bn loss a year ago due to a $6.9bn tax hit, while non-GAAP net income dropped eight per cent to $3.2bn.
Oracle executive chairman and CTO Larry Ellison, speaking on the company's conference call, extolled the advantages of Oracle's cloud software, a suite of integrated business applications. "No other cloud service provider has such a comprehensive suite of front-office and back-office applications," he said, insisting that customers want their applications to work together.
Ellison also said Oracle's technology is more secure than public cloud competitors like AWS because separate security processors insulate customer workloads. "No other cloud service provider offers this kind of protection," he said.
According to Ellison, there are now about 1,000 paying Autonomous Database customers and Oracle added about 4,000 Autonomous Database trials in Q3.
Last month, Berkshire Hathaway, Warren Buffett's investment company, sold its stake in Oracle. ®