Samsung has unveiled a 12GB cellphone DRAM module it hopes will be part of next-generation smartphones.
It was way back in April 2016 that Sammy cranked out 8GB DDR4 DRAM built with a 10nm-class process, meaning something between 10 and 19nm in practice. Now it is punching out 12GB LPDDR4X (Low Power Double Data Rate 4X) DRAM in a 1.1mm-thick package using the same process technology.
Sammy reckons the new kit hits a sweet spot for high-end smartphones – the iPhone X uses LPDDR4 DRAM for example – and we note it's a larger amount of memory than that found in some laptop computers. That clears the way for next-gen phones with laptop-grade CPUs running more, or larger, apps in RAM at the same time, while juggling data coming in from multiple sensors and cameras, and information beaming to and from 4G and 5G networks, plus all those graphics for larger screens.
The package is built from six 16Gbit LPPDDR4X chips, and its data transfer rate is 34.1GB/sec.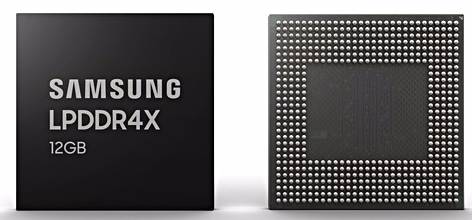 Samsung's 12GB mobile phone memory package
Samsung says it's going to more than triple the supply of its 10nm-class 8GB and 12GB mobile DRAM in the second half of the year to meet the anticipated high demand. Back in July last year Sammy said it had tested 8Gbit LPDDR5 DRAM built with the 10nm-class tech. So there will be more good news coming for memory-hungry smart phone makers. ®