Toshiba has pushed out its 2.5-inch XD5, a physically smaller gumstick format with a waspy 7mm thickness slotted into a larger case so that it can slip into standard drive bays.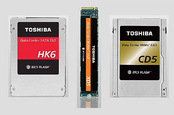 When I'm 64: Toshiba Memory Corp woos data centres with a little TLC... SSD trio
READ MORE
The XD5, which was previously available in an M.2 gumstick format, is one of Toshiba's data centre-tastic SSD trio – based on the company's 64-layer 3D NAND flash – announced in March last year. Tosh also launched a 2.5-inch format CD5 at the same time, an NVMe PCIe gen 3x4 product with capacities from 960GB to 7.7TB. The third of the triad, the HK6-DC, has a SATA 6Gbit/s interface.
The XD5 it released today comes in a 2.5-inch form factor and its capacity ranges from 960GB through to 3.84TB – the same mid-range and high-end capacity as the M.2 version – but despite its physically larger case, it has a smaller entry-level capacity.
The performance specs are exactly the same as the M.2 XD5: 250,000/21,000 random read/write IOPS – heavily skewed towards read – and up to 2,700/895MB/sec sequential bandwidth. The M.2 version actually started out with slightly lower speeds but these were later uprated.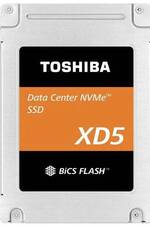 Contrast the XD5 2.5-incher with the one-year-old CD5, which has 500,000/35,000 random read/write IOPS and 3,393/2,076MB/sec sequential bandwidth – it has both much higher capacity and performance.
Although pricing is not yet available, by all indications the XD5 appears to be a cost-reduced 2.5-inch drive.
Like its small sibling, it's designed as a read-intensive data centre drive, and operates in a power-sipping 7W envelope. It has the same <1 drive write/day for five years, a five-year warranty, 2 million hours MTBF rating, and a sanitise instant erase option for data security.
The latest XD5 will sample-ship this quarter and, as a drive for OEMs, no prices were revealed. No datasheet is available yet either. ®