Just look at Q! Watch out Microsoft, the next Android has a proper desktop PC mode
Foldable support too
Google has released the first official cut of 2019's Android to developers, including a secret "desktop mode" for external displays, and support for pholdables*. Q is the 10th major platform release of the software that dominates the smartphone market (Android has a market share north of 85 per cent**).
The desktop mode was not officially listed in the blog post accompanying the release. Twitter user Michael Young, who disclosed the feature based on leaks to the XDA Developers Portal in January, suggests desktop mode is available to other launchers.
Android Q Desktop Mode! pic.twitter.com/ti4VGGtS7c

— Michael Young (@Shad0wKn1ght93) March 13, 2019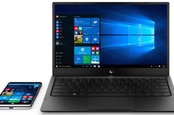 Microsoft's Continuum: Game changer or novelty?
READ MORE
Making a phone double up as a PC has been feasible for years, but never caught on. Microsoft was probably first off the blocks with Continuum in Windows 10 Mobile, but then it abandoned mobile. Jide's Remix OS, a commercial development of the Android x86 project started by former Googlers, didn't last the race as the company changed focus. Samsung and Huawei fly the flag, supporting the feature in high-end phones: DeX probably has the strongest app support.
Google's own success with Chrome OS seems to have put the shackles on the feature, until now.
The release features an enhanced machine learning API, and new APIs for 3D, 2D graphics and MIDI. Among the new security features, background clipboard access is banned. Google has already announced its intention to make the Google Play Store 64-bit only later this year, so Q advances that initiative, said Google's blog Dave Burke, VP of engineering. It also tweaks the ART runtime, allowing apps to be optimised for faster launch times before they have even been fully downloaded.
The first beta and SDK traditionally introduce deep-level changes; most new userland features arrive in subsequent releases, later in the spring, while the twee confectionery or pudding-themed name is added around "launch" time in the summer.
You can find out more here. ®
Bootnotes
*As we must now call them.
**The quarterly figure only ever dips below 85 per cent in Q4, when Apple introduces its annual range.