This article is more than 1 year old
It's alive! Big Switch stitches together an open-source Network Operating System
Victor Frankenstein would be impressed
Networking software specialist Big Switch has launched a Network Operating System (NOS), cobbled together from freely available open source components.
The open source NOS stack includes Open Network Linux (ONL), which Big Switch contributed to Open Compute Project in 2014, and Software for Open Networking in the Cloud (SONiC) – originally developed by Microsoft to run the company's Azure cloud platform, and available as open source since 2015.
The final piece of the puzzle is the Free Range Routing (aka FRRouting) protocol suite – a project managed by the Linux Foundation.
The entire stack is available to download from the Big Switch website, and will be demoed next week at the Open Compute Summit in California, running on top of hardware made by Edgecore. The company will also show off two kinds of platform automation: one based on Ansible, and another based on SDN controller functionality.
While open networking was immediately embraced by hyperscale data centre operators like Facebook and Google, it has been slow to trickle down to the rest of the market. The new NOS is aimed at the somewhat smaller guys – service providers, Tier 2 cloud vendors and those offering software-as-a-service.
Big Switch hopes that this stack will become a standard in open source networking, simplifying development of cost-effective switching hardware for the masses.
"You know what happened in compute – we had mainframes, and it was a completely closed system. But once Linux came, with x86, it opened a whole new set of innovations," Prashant Gandhi, VP and chief product officer at Big Switch, told The Reg.
"All of these innovations occurred on top of a standard, common platform. In networking, we are running like hamsters in a wheel, redoing network operating systems and protocols, and we are not able to move beyond that, because we don't have a common Linux-like environment."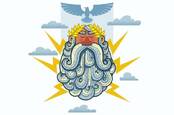 Linux Foundation lays out welcome mat for AT&T network OS
READ MORE
Anecdotal evidence suggests there's plenty of appetite for white-box and bright-box switches in the mid-market: "We are starting to see cities, governments, universities, smaller companies like Nutanix – they are a public use case for us, and they have deployed our solution with Dell switches," he said.
"Another one is NIO, an electric car startup that recently went public, and they have deployed our solution for their container use case, for their machine learning applications."
"There is no difference anymore between a white box/bright box and a proprietary box," Gandhi added. "They all use the same ASICs. Oftentimes, they are from the same production line, from the Original Device Manufacturer, and they just get painted differently."
The idea of bundling together complimentary open source projects to create a standard environment is not new: just think about the LAMP stack, widely used as a website backend. A typical LAMP includes Linux, Apache HTTP Server, MySQL and PHP.