What was that P word? Ah. Privacy. Yes, we'll think about privacy, says FCC mulling cellphone location data overhaul
Commissioners still doing their best to ignore bounty hunter stalking scandal
Don't mention the bounty hunters
All of which is laudable and will almost certainly be life-saving given that over 80 per cent of emergency calls are now made through mobile phones rather than landlines.
But at the same time, the measure approved on Friday ignores the fact that the current, less accurate system has been abused and remains unfixed. Not only that but the FCC is actively ignoring its failings and its representatives are refusing to speak about the bounty hunter scandal while pushing forward on an idea that would make any breach of the system even more problematic.
In approving the measure, several commissioners mention the privacy issue in general terms while avoiding mention of the actual recorded abuses or their root causes.
Commissioner Michael O'Reilly said: "I will restate my concern that location accuracy information should not be used in a way that would infringe on the rights of American citizens. This location accuracy proceeding is about providing first responders with life-saving information, not a vehicle to aggregate location information that can be provided to others."
Commissioner Jessica Rosenworcel argued repeatedly for more accurate location data that is currently proposed and also avoided talking about third-party access making a single reference to privacy in an otherwise lengthy statement.
"It also asks important questions about privacy," she said, before continuing: "But on the most fundamental level, it is organized around standards that unquestionably fall short of what first responders require…"
Only Commissioner Sparks got close to acknowledging the elephant in the room. "My other concern had to do with privacy and security… I am glad it asks those important questions about the appropriate treatment of similarly situated access data and whether rules like those previously adopted should apply here. We need to build those protections and make sure sensitive location data is not miused or abused like we've been reading about on the news."
Neither FCC chairman Ajit Pai nor Commissioner Brendan Carr made any mention of either the bounty hunter scandal nor the issue of privacy.
More dysfunction
In other dysfunctional news coming out of the FCC, Commissioner Sparks called for the recall of a broadband report that chair Pai has been heavily promoting recently as evidence that his decision to revoke net neutrality rules had led to greater broadband investment and provision.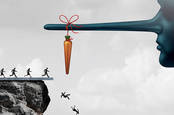 Tech industry titans suddenly love internet privacy rules
READ MORE
"It needs to be taken down and taken back to the chairman," Sparks said when asked about reports that one company – Barrier Communications – had provided figures showing that it was providing fast internet access to 60 million people that it isn't. Sparks confirmed the FCC has opened an investigation into the issue.
All the commissioners also went out of their way to avoid talking about the robocalls they have been receiving from the television show Last Week Tonight as a way of highlighting the FCC's continued inaction against what is its number one public complaint.
Only Sparks confirmed that he had received the calls – which included bagpipe music – and he also said that he felt the robocalls were legal as a First Amendment petition to government.
Rosenworcel again made plain her anger at the three majority Republican commissioners for failing to do more and outlined a few clear actions they could be taking. And those commissioners – Carr and O'Reilly – insisted on maintaining the fiction that the FCC is actively fighting the situation claiming, Trump-like, that chair Pai was doing more to combat robocalls than anyone has ever done. He isn't. ®