All good, leave it with you...? Chap is roped into tech support role for clueless customer
'He was definitely invoiced'
---
On Call Have you got that Friday feeling? Well if not, there's only one way to get it: reading this week's instalment of On Call, where readers share tech support triumphs and frustrations.
This time, a story from "Trent" caught your Vulture's eye. Now, at the time, Trent categorically did not work in tech support – but that didn't stop his customer from acting like he did.
In fact, Trent was a project coordinator for a small website development company, and had been asked to deliver a replacement hard disk drive to a customer who had failed one in a PC.
As a favour – because, again, the firm didn't normally do tech support – Trent was told to take a copy of Windows 98, "just in case". Words that now no doubt fill him with dread.
"On arrival, I handed the HDD to the customer and was about to tip my cap and leave when he asked if I could install it for him," Trent said. "'Of course,' I said."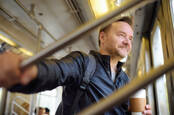 Sure, we've got a problem but we don't really want to spend any money on the tech guy you're sending to fix it
READ MORE
And so the customer guided Trent to the PC in question, where he removed the old HDD, and put in the new one.
"BIOS saw it, so I told the customer, 'All good, leave it with you'," Trent said.
But Trent had no such luck.
"Has its got Windows 98 on it?" asked the user. No, said Trent.
"But it needs Windows 98 on it."
After asking whether he had Windows 98, our not-tech-support man was directed to "what obviously used to be the IT manager's office", which contained cupboards full of CDs.
However, a Windows 98 disk could not be unearthed, so Trent ambled off to get the one from his car, warning that the customer would have to sort out licensing.
"So I installed Win98 while I had a cup of tea, and told the customer, 'All good, leave it with you'," Trent said.
"So it's on the network?" asked the customer.
No, said Trent, it isn't. "Does it need to be on the network?"
"Oh yes, yes, yes!" insisted the customer.
"Do you have the network card drivers, and what its IP address is…" began Trent. "… Never mind, leave it with me."
And so Trent got the NIC VEN/DEV, downloaded the drivers to a floppy on someone else's PC and installed them.
And, since all the IP addresses were static, after a quick look around the office, Trent guessed right first time.
"Soon, network neighbourhood was up and I could see lots of machines. So I told the customer, optimistically, 'All good, leave it with you'."
Fat chance, Trent. Fat chance.
"So it can log onto the mainframe?" he asked.
"What mainframe?" countered Trent, before resigning himself to his fate. "Never mind, leave it with me."
And so off he went, hunting down a CD he'd seen in the IT manager's office with AS400 Emulator Software written on it, which after installing had a log-in screen for the mainframe.
"I eventually left at 1pm," said Trent. "He was definitely invoiced."
Have you ever ended up being roped into doing more tech support than you'd bargained for? Do the words "just in case" also fill you with foreboding?
Tell On Call all about it and you might see your story featured on these pages in coming weeks. ®