This article is more than 1 year old
Forget that rare-earth element crunch – we can now just extract them from industrial waste
It's a match made in heaven for erm, glucunobacter and phosphogypsum
Bacteria could help scientists mine rare-earth elements, a critical component in modern electronic devices, from the chemical waste produced from the process of manufacturing fertilizers.
A team of chemists from the academic and industry laboratories across the US studied how rare-earth elements (REEs) could be mined from phosphogypsum (PG), the powdery substance is formed as a byproduct when phosphate rocks are used to make fertilizer.
REEs, as the name suggests, are difficult to find and mine but are vital for the manufacture of screens for TVs, smartphones, computers and laptops, among other things. America, for one, has to buy its supplies from other countries, including China, which has somewhat of a stranglehold on the industry. Breaking away from that reliance would be a relief for nations keen to not rely so heavily on the Middle Kingdom.
But now they can be extracted from somewhere closer to home, the researchers believe. In a paper published this week in the Journal of Chemical Thermodynamics, they describe a method of extracting the materials from PG waste using chemicals naturally produced by a strand of bacteria known as gluconobacter oxydans.
The bacteria dwells in environments rich in sugar and can be naturally found in apples and pears, where they cause the fruit to rot. They produce organic acids such as gluconic acid that can dissolve REEs into a solution so they can be extracted and purified, using bacteria to draw out metals from waste by producing a compound soluble in liquid, a technique known as bioleaching.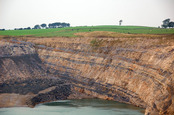 West's only rare earth mine closes. Yet Chinese monopoly fears are baseless
READ MORE
"With bioleaching, we are using an organic acid that is less harmful to the environment," said Yoshiko Fujita, coauthor of the paper and a researcher at the Idaho National Laboratory.
It is estimated that the US mined 28 million tons of phosphate in 2017. The researchers reckon millions and tons of PG waste are scattered around the US, particularly in Idaho and Florida. About 126,000 tons of rare-earth oxides are produced worldwide, and 100,000 tons of REEs are produced and locked up in PG waste every year.
There are obstacles to using PG, however. First of all, it's classified as waste material so it might be difficult to obtain under certain regulatory rules. Also, it's mildly radioactive since it contains low deposits of uranium and thorium.
Despite this, the researchers are determined to nab REEs and hope to test their methods on using PG waste from chemical plants producing phosphoric acid.
"I think there's such a vast reserve there," said David Reed, another coauthor of the paper, and also at the Idaho lab. "At some point, push comes to shove and we're going to have to look at PG as a viable resource. If something happens to the flow of REE material, these PG sources are significant." ®