Western Digital will cut loose more than 300 people as part of its $800m/year cost-saving initiative starting in May.
Three California state WARN (Worker Adjustment and Retraining Notification Act) notices filed on Tuesday featured the American storage firm.
WD announced it would chop a total of 313 from May 7, including 102 in Irvine, Orange Country; 114 in Milpitas; and 97 in San Jose.
Affected employees were told last week.
According to the Milpitas city manager's weekly report, the 114 staffers cut in the area included "a vice president, directors, managers, engineers, technologists and technicians".
Western Digital is facing disk drive manufacturing contraction, with fewer drives being produced overall. This is due to enterprises focusing more on high-capacity nearline disks and SSD cannibalisation of performance enterprise and notebook disk drives.
SSD sales have also not been doing well of late.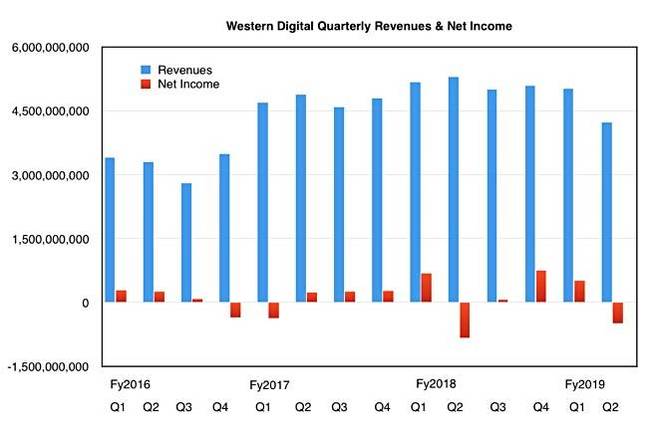 WD's profits and revenue downturn
The company is facing declining profitability and made a $487m loss in its latest quarter, on revenues of $4.2bn, 20 per cent down on the year ago total. During its latest results report, it said expenses cuts would help it save $800m annually.
At the time CEO Stephen Milligan said WD was "taking actions to better align our cost and expense structure to near-term business conditions".
WD sent us this statement:
"In response to an ever-changing industry, Western Digital Corporation is evaluating and transforming our business to ensure we deliver value to customers and shareholders, and remain competitive as a data technology leader. Appropriately sizing and structuring our organisation is one component of our response to an evolving industry.
"We recently implemented a restructuring action affecting employees across various functional groups at several of our locations. Employees affected by this action have been notified. We have filed WARN notices indicating planned reductions of approximately 250 positions in Northern California and 100 positions in Southern California."
Fired employees may not get much consolation from thinking their pain is WD's gain. ®