This article is more than 1 year old
That's Huawei I like it: Chinese giant's cloudy arm dumps 19-inch rack for newer model
All future cloud data centres to be designed with 21-inch Open Rack in mind
Embattled Chinese electronics giant Huawei said it will design all of its upcoming public cloud data centres around the 21-inch Open Rack standard developed by the Open Compute Project.
The OCP's Open Rack was originally created by Facebook for internal use, as an alternative to the trusty 19-inch server rack – which has remained largely unchanged since being proposed by AT&T for long distance telecommunications equipment back in 1922.
The main difference between the traditional rack and the Open Rack is the size of the hardware – the latter was designed to take 21-inch pizza boxes, while maintaining the same 24-inch column width. This design allows for three half-width server motherboards to fit side by side, or for a chassis to squeeze in five 3.5-inch drives in a row, instead of four. The Open Rack is also slightly taller, with a single rack unit measuring 48mm in height instead of the usual 44.5mm, for better airflow.
The OCP design can be equipped with an integrated busbar at the back which simplifies equipment connection, and enables the delivery of 48V power to the server.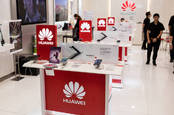 Can't do it the US way? Then we'll do it Huawei – and roll our own mobile operating system
READ MORE
At the end of 2018, Huawei was running public cloud data centres across 23 geographic regions, with 40 availability zones – and expanding rapidly. This means it could become one of the world's largest users of open hardware, joining the likes of Facebook, Google and Microsoft.
The company said its adoption of Open Rack would help improve the efficiency of its facilities and reduce the time spent on server installation and maintenance.
"Huawei's engineering and business leaders recognised the efficiency and flexibility that Open Rack offers, and the support that is available from a global supplier base," said Bill Carter, CTO for the Open Compute Project Foundation.
"Providing cloud services to a global customer base creates certain challenges. The flexibility of the Open Rack specification and the ability to adapt for liquid cooling allows Huawei to service new geographies."
Huawei joined the OCP last year, becoming the fifth Chinese company to do so, and has since made a number of contributions to the project, including a design for a compute module. It also announced it would adopt OCP's OpenRMC software for server management. ®