Updated UKCloud today sucked up £25m in funding from Cisco-backed Digital Alpha Advisors for a 10 per cent stake in a business battling to convince buyers to use national rather than multinational cloud bringers.
Former Attenda CTO Simon Hansford and Ark Data Centre founder Jeffrey Thomas set up the company in mid-2011, tapping into UK.gov's "Cloud First" strategy to source a quarter of public-sector goods and services via SMEs.
Things were going swimmingly until Microsoft and AWS showed up and began to snaffle UKCloud's public-sector snacks. Now swathes of government have migrated data to those two global beasts, and the David vs Goliath standoff isn't going as well for incumbent SME cloud providers, including UKCloud.
Hansford, now CEO at UKCloud, confirmed that two new execs, Cisco UK CEO Scot Gardner and a senior figure at Digital Alpha, have joined the board. He did not comment on reports that the cash injection is for a 10 per cent stake in UKCloud.
He told us the money will be used to "invest in our platform to expand our capabilities". UKCloud runs a multi-cloud platform and specialist ones for health/life sciences and defence/national security. UKCloud rents rack space from Ark Data Centre.
The agreement will also see UKCloud incorporating Cisco software for use on its own platform, and being resold as-a-service. A version of Web-Ex hosted on UKCloud's platform is one area under consideration, Hansford confirmed.
Cisco joins an unusual collection of backers at UKCloud that include singer/drummer Phil Collins, founding Genesis members Mike Rutherford and Tony Banks, Pink Floyd drummer Nick Mason, one-time tennis ace Andy Murray and returned tennis toff Tim Henman.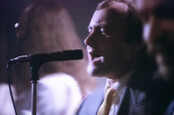 Phil Collins and supergroup exposed as cloud investors
READ MORE
In the year ended 31 March 2018, UKCloud revenue dipped to £40.2m, down from £42.9m due to the reduction in usage of its services by a "small number of customers". Operating profit decreased from £4.4m to £3.2m.
Hansford said there was still a vital role for local cloud slingers to play in the UK, and couldn't resist taking a pop at its arch-rivals.
"An awful lot of customers have realised that AWS and Azure are ultimately lock-in plays. By using their technology and embedding applications, they've seen a massive increase in their bills. We have an open platform."
Clearly, AWS and Microsoft are winning the war, on the marketing front at least. ®
Updated to add
Cisco has said UK CEO Scot Gardner has not joined UKCloud's board, and UKCloud's Hansford has told us he made an error in stating so.
Similar topics