This article is more than 1 year old
Super Cali optimistic right-to-repair's negotious, even though Apple thought it was something quite atrocious
US state joins others mulling laws allowing folks to freely fix their kit
California has joined other US states mulling granting folks a right to repair – which would allow people to freely fix their electronic devices, and require manufacturers to provide the tools and manuals to do so.
A Cali state law proposed today follows an effort last year that was ultimately defeated by lobbyists, led by Apple. But since then, the issue has grown in prominence, and 19 other American states are considering legislation that would allow folks to fix their stuff without voiding warranties, and be given the tools and documentation to do it.
In addition, the US Copyright Office determined late last year that Americans were allowed to break anti-piracy protections in personal devices in the course of fixing them, and the Federal Trade Commission (FTC) said this month it was researching the issue for an event this summer.
In this latest case, California Assembly member Susan Talamantes Eggman's bill (1163 (the amendment text is still being drafted) would require manufacturers of electronics to make service literature and parts available to product owners and to regulated, independent repair shops, she claims.
She said of the proposed change to the law: "The Right to Repair will provide consumers with the freedom to have their electronic products and appliances fixed by a repair shop or service provider of their choice, creating a competitive market that will be cheaper for consumers and reduce the number of devices thrown in the trash."
There are lots of reasons why people should be allowed to repair products they purchase, or take them to third parties to fix, but most significant is the fact that it reduces the amount of waste. There's also the small point that when you purchase something it's supposed to be yours to do what you want with.
Manufacturers have increasingly designed their products to require specialist tools to fix, and then refused to make those tools available to anyone but authorized retailers. It is a money-maker for manufacturers, who charge significantly more than you could expect to pay at a third-party repair shop, and who will require authorized repair shops to pay a registration fee and agree to their terms and conditions.
The hassle and cost of repair a device through the manufacturer has also been used to drive consumers to "upgrade" their device.
Just take one bite of this lovely red apple
Control-freak electronics giant Apple is perhaps the best known consumer brand that has gone out of its way to make its products inaccessible, even removing the customer's ability to add or change memory or storage and designing custom screw heads to limit access to its hardware.
As just one example: when Apple was found to be throttling the performance of all but the most recent iPhone, largely due to degradation of batteries, the public outcry led it to reduce the cost of replacing a battery from $79 to just $29: highlighting the enormous mark-up that the company puts on a simple repair.
And in a sign of just how much impact that change in pricing had: the trillion-dollar company had to adjust its sales estimates when it made the $29 offer because so many users opted to upgrade their battery and then stick with their existing iPhone, rather than upgrade to the latest model.
It's also worth noting that Apple still insisting on the battery replacement only being done by itself or one of its authorized repair stores, resulting in wait times that stretched to several months.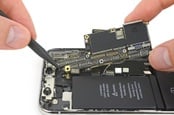 We'll help you get your next fix... maybe, we'll think about it, says FTC: 'Right to repair' mulled
READ MORE
The decision to push again for a law that would require Apple and others to let people fix their devices has been hailed by a number of organizations who have been arguing for the measure for some time.
"People shouldn't be forced to 'upgrade' to the newest model every time a replaceable part on their smartphone or home appliance breaks," said the executive director of Californians Against Waste, Mark Murray.
"These companies are profiting at the expense of our environment and our pocketbooks as we become a throw-away society that discards over 6 million tons of electronics every year."
The EFF is behind it too with its legislative counsel Ernesto Falcon saying that the bill was "critical to protect independent repair shops and a competitive market for repair, which means better service and lower prices."
California joins Georgia, Hawaii, Illinois, Indiana, Massachusetts, Minnesota, Missouri, Montana, Nevada, New Hampshire, New Jersey, New York, North Dakota, Oregon, South Dakota, Vermont, Virginia, Washington, and West Virginia in its efforts. ®