Facebook will overhaul its ad system to prevent landlords, employers and money-lenders from bypassing anti-discrimination laws.
The anti-social network announced Tuesday that it will not allow advertisers to access certain demographic details within its vast user datasets when advertising housing, credit or jobs. Those details include ZIP codes, gender and age.
The decision settles a number of lawsuits against Facebook brought by, among others, the National Fair Housing Alliance, the American Civil Liberties Union (ACLU) and the Communications Workers of America.
The company's system breaks anti-discrimination laws by allowing people to precisely target specific groups – and so exclude other groups – the organizations have argued. Facebook does not address whether its current system is illegal or not in the settlement.
Even though the decision is unlikely to impact Facebook financially – businesses are unlikely to pull their ads just because they can't block black people or Latinos from seeing them – the company has refused to make significant changes despite years of calls for it to do so, and has fought the lawsuits furiously.
However, the calculus appears to have changed recently at 1 Hacker Way in Menlo Park, Calif. Late last year, the Justice Department allowed a lawsuit against Facebook on this issue to proceed and in recent months the tide has very definitely turned against the company, something that hasn't been helped by its compulsive lying.
Facebook is currently being investigated by the Federal Trade Commission (FTC), the Securities and Exchange Commission (SEC), a number of state attorneys general and the Department of Justice over its data-handling. And that was before a man in New Zealand used Facebook's video service to livestream his murders of 50 people, prompting US lawmakers on both sides of the aisle this week to call for the federal government to start regulating the antisocial giant.
Precisely
Most of Facebook's revenue comes through its sophisticated advertising platform that lets advertisers select who sees their ads.
The targeting is often extraordinarily precise: almost anything that anyone puts in a Facebook profile, combined with anything in any other database that Facebook has managed to tie to those details, can be selected by an advertiser. That includes interests, sex, gender, location, profession, age, and so on.
Civil rights advocates pointed out some time ago that this system was wide open to abuse since advertisers could use a variety of criteria to exclude anyone they don't want to consider.
A long history of discrimination in the US led to laws that made it illegal for people to discriminate against people based on their age, race, gender and disabilities, with even the current president's father, Fred Trump, sued for blocking black people from living in the apartment blocks he owned. Facebook's system effectively enabled such discrimination, civil rights groups argued.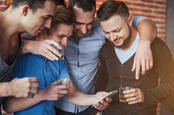 Click here to see the New Zealand livestream mass-murder vid! This is the internet Facebook, YouTube, Twitter built!
READ MORE
Facebook said the changes will require a major overhaul of its software. By the end of the year, it will create a separate advertising entry point for companies planning to advertise housing, employment and credit. It will also pay out $5m to the various parties that sued it, of which $2.5m will go toward training advertisers on how to comply with housing and lending laws. Under its previous system, Facebook left it up to advertisers to police themselves.
Facebook has also promised to expand a similar system it set up for political ads following widespread anger over its role in Russian manipulation of the 2016 presidential election: it will let users search for all housing, credit and employment ads. It will also identify such ads in future and redirect them to the new portal, the company said.
Which means that so long as everyone trusts Facebook to do what they say they will, and so long as the company introduces systems that work effectively, there will be no more problems, despite the clear financial incentive the company has to do a poor job.
Just to round things out in true Facebook fashion, its chief operating officer Sheryl Sandberg explained in a blog post that the company had already done a lot and but every so humbly noted that the company "can do better." ®
Similar topics