Wondering why 'Devin Nunes herp-face' was trending online? Here's the 411: House rep sues Twitter for all the rude stuff tweeted about him
Congresscritter seeks $250m for 'defamation, neglience'
---
A US congressman is getting a crash course in the Streisand Effect after filing a lawsuit this week against Twitter and a handful of his harshest critics on the antisocial network.
Rep. Devin Nunes (R-CA) seeks a $250m payout from the micro-blogging site, and three tweeters who lampooned him in recent years. Nunes, a ranking member of the House Permanent Select Committee on Intelligence, also seeks $350,000 in punitive damages for what his lawyers call "censorship" and "shadow banning" of political conservatives on the site.
Nunes' complaints almost immediately started trending on Twitter and elsewhere on the web.
While Nunes hopes his legal action will expose what he believes is a secretive campaign within Twitter to silence the voices of Twitter addicts on the political right, his 40-page complaint is also a greatest hits album of people making fun of the SoCal congresscritter.
Devin Nunes just nominated himself for the self-own Hall of Fame.

— Tom Tomorrow (@tomtomorrow) March 18, 2019
The lawsuit paperwork – which seeks defamation payouts from San-Francisco-based Twitter, plus former Republican campaign strategist and tweeter Liz Mair and two Twitter accounts dubbed "Devin Nunes' Mom" (since suspended) and "Devin Nunes' Cow" (still active as @DevinCow) – at various times spotlights tweets that are, to say the least, not particularly flattering for the congressman.
Of "Devin Nunes' Mom", the suit alleges it "falsely stated that Nunes would probably join the Proud Boys, if it weren't for that unfortunate 'no masturbating' rule" and "falsely accused Nunes of being part of the President's taint team," as well as "Devin might be a unscrupulous, craven, back-stabbing, charlatan and traitor, but he's no Ted Cruz," and "falsely stated that @Devin Nunes is DEFINITELY a feckless cunt."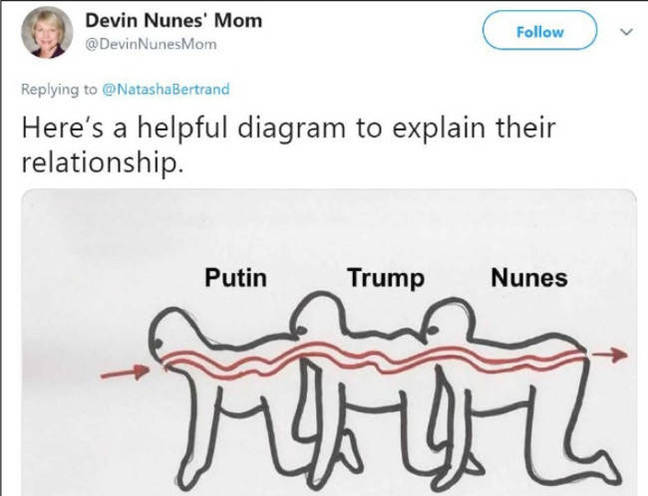 Too much to swallow ... One of the allegedly offensive tweets
The complaint goes on to recite how the fake Devin's Mom account "falsely stated please don't call @DevinNunes compromised. He's not at all. He's a complete and total fucking traitor," and "falsely stated that Nunes knows a thing or two about throwing away evidence, don't you Scabbers?" and, finally "falsely stated that Nunes has herp-face."
Of the Devin's Cow account, the lawsuit alleges the author unfairly dubbed the congressman "a treasonout cowpoke," and falsely claimed that "Devin's boots are full of manure." The account also unfairly stated "he's udder-ly worthless and its pasture time to move him to prison," and falsely alleged that "Devin is whey over his head in crime … I bet @DevinNunes' cocaine yacht and underage prostitutes won Trump over," according to the filing.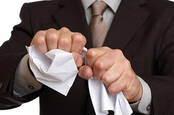 Nunes FBI memo: Yep, it's every bit as terrible as you imagined
READ MORE
The lawsuit even goes so far as to suggest that the accounts weren't just the work of people intent on making fun of him, but rather were part of a conspiracy, perhaps backed by his political opponents, and claims that Twitter was negligent in allowing the cruel jibes to continue.
"The Twitter attacks on Nunes were pre-planned, calculated, orchestrated and undertaken by multiple individuals acting in concert, over a continuous period of time exceeding a year," the complaint, made public ahead of being filed, stated.
"The full scope of the conspiracy, including the names of all participants and the level of involvement of donors and members of the Democratic Party, is unknown at this time and will be the subject of discovery in this action."
The case will be heard in the Virginia state court, where the Circuit Court for Henrico county will preside and (among other things) rule on whether or not it was defamatory to claim Nunes has "herp-face." ®