This article is more than 1 year old
Look what the Softcat dragged in: Revenues grow 21% as UK reseller refuses to blink at Brexit
'We remain confident that we are well prepared for different scenarios,' reckons boss man
With Brexit possibly just around the corner, reselling machine Softcat says it has made all the preparations it can to minimise the impact on the supply chain and sales.
Not that any uncertainty caused by the unpredictable nature of Britain's withdrawal from the European Union damaged the London Stock Exchange-listed biz in the six months ended 31 January, according to results released today.
Group sales climbed a little more than 21 per cent to £434m: software was up 19.4 per cent to £200.9m, hardware grew 24.7 per cent to £195m and services came in at £38.1m, up 13.4 per cent.
CEO Graeme Watt said the period was "characterised by market share gains". It also added 620 new customer accounts to the database of 10,100 firms, with gross profit per punter up by nearly a fifth to £9,400.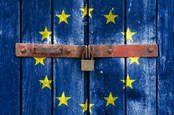 Hard Brexit, soft Brexit, deal or no deal: Doesn't matter – all integrator CGI sees is dollar signs
READ MORE
"Customers from all verticals continue to invest in technology driven by the need to be secure, compliant and innovative to remain competitive. The demand for Hybrid Cloud, Security, Software and Services remain key drivers for growth. The complexity of IT means that our customers need our help and support more than ever," he said in a statement.
Softcat added 127 heads in the six months, up 15 per cent on recruitment a year ago. The long-running grad training programme is one of the reasons the company believes it has continued to expand.
Admin expenses went up in the half-year but the sales boost led to an operating profit of £33.8m, up from £24.11m in the corresponding period a year ago. Net profit was £27.5m, up from £19.43m.
Watt previously warned that Brexit had made forecasting less clear because of the uncertainty for Softcat's customers – though the UK's exit from the EU seems not to have affected financial results so far.
According to forecasts – forecasting isn't an exact science – UK spending on tech will fall in 2019 due to the Brexit factor. Enterprises including BMW, Siemens and Airbus have said they'll clip UK budgets following Brexit, according to Forrester.
The channel is watching developments in Brussels and London with interest to see what sort of exit, if any, the politicians can thrash out before 29 March.
Watt said that management's "attention is focused on ensuring the robustness of the supply chain and remaining tactically agile in the event of currency movements and the impact that may have on customers pricing".
He added: "We remain confident that we are well prepared for different scenarios, but continue to note, like many companies, that a prolonged period of uncertainty is likely to impact customer buying patterns."
Softcat warned of potential product delivery delays that could lead to shortages and of price rises should the value of the pound fall relative to the Euro and the US dollar. ®