This article is more than 1 year old
Google takes a page from Microsoft of old and revives browser ballot on Android
There's no place like Chrome, but... here are the other guys
Google has offered to remind Android users in Europe that Chrome isn't the only game in town – similar to the "Web Browser Ballot" measure imposed on Microsoft a decade ago as part of a competition remedy.
In a blog post, senior SVP of global affairs Kent Walker wrote that Google will start doing more "to ensure that Android phone owners know about the wide choice of browsers and search engines available to download to their phones. This will involve asking users of existing and new Android devices in Europe which browser and search apps they would like to use." He didn't elaborate on the details.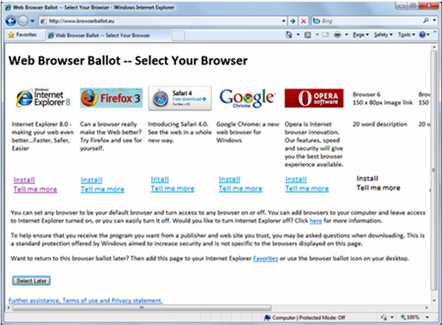 'Member... Microsoft's original browser ballot display?
Microsoft originally proposed the idea of giving users a choice of default browser in settlement talks with the US authorities in 1999, but the idea was rejected.
The remedy was revived by Microsoft a decade later, following a complaint lodged by Norwegian browser company Opera in 2007. This time, it was approved and became a legally binding commitment.
So from late 2009, and only in Europe, consumers installing Windows for the first time, where Internet Explorer was the default web browser, were met with the ballot screen.
The design of the screen was contentious. The browser options were ultimately determined by their market share over the preceding months in a randomised order.
However, Microsoft didn't include the ballot when Windows 7 Service Pack 1 rolled out in 2011, leading to a formal statement of objections from the European Commission. The obligation finally expired in December 2014. Was it effective? Hard to say. An estimate in 2012 reckoned that downloads of Mozilla's FireFox declined by "millions" because of poor compliance for a period some estimated at 14 months.
According to statcounter, Chrome has a 57 per cent share of the total mobile market, but 21 per cent belongs to Safari on iOS, so Chrome's share of the Android platform is far higher.
Last year, the European Commission fined Google €4.3bn for using Android to "cement the dominance of its search engine".
Google's proposed solution involves splitting the Google app bundle into two parts, one free, and the other commanding a licence fee reportedly up to $40 per device. The Play Store is assigned to the pay-for bundle, while Google Search and the Chrome browser would remain in the free bundle. Phone makers regard the Play Store as mandatory to making a competitive Android product. Those who chose Search may receive a discount.
Competition Commissioner Margrethe Vestager said in an update today: "It has the potential to give consumers a real choice about what search and browser they want on their device. It is welcome that Google is stepping up its efforts and we will watch closely to see how the choice screen mechanism evolves." ®