New Zealand police have started arresting some of those who allegedly shared a livestreamed video of the mass murder of 50 people in Christchurch last week.
The footage was broadcast live on Facebook by the killer as he gunned down dozens of innocents, and it was removed approximately an hour later by the antisocial network.
But copies were made and subsequently reposted by a large number of netizens across the web, seemingly unconcerned about its contents. As many as 1.5 million versions of the murderous rampage were eventually deleted from Facebook alone, the Silicon Valley giant claimed.
The video was subsequently officially designated an "objectionable publication" by New Zealand's censors, given that it depicts the actual murder of other human beings. That means sharing it is a serious offence.
One person detained by the plod was Christchurch businessman Philip Neville Arps, 44, who shortly after appeared in court accused of distributing the footage. He was told he did not have to enter a plea at this stage, and was denied bail. His alleged crime – breaking the nation's 1993 Films, Videos and Publications Classification Act – carries a maximum penalty of 14 years in prison.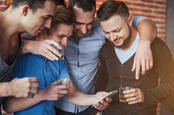 Click here to see the New Zealand livestream mass-murder vid! This is the internet Facebook, YouTube, Twitter built!
READ MORE
An 18-year-old New Zealander, who cannot be named due to a court order, was also nabbed for allegedly sharing the livestream, and appeared in the dock on Monday where he was denied bail. A New Zealand woman in her late 20s was collared for allegedly inciting racial disharmony in a message she posted on Facebook in response to the shootings. She faces a maximum of three months in jail if charged and convicted.
Meanwhile, the authorities have made it plain they consider the sharing of the video, or clips of it, a serious crime, and will pursue idiots who knowingly did so.
"I don't think New Zealanders innocently caught up in the social media storm following these horrific events need to be concerned," New Zealand's chief censor David Shanks said. "The enforcement focus will likely be on those actively and maliciously involved in spreading this material, and taking actions such as deliberately distorting it to avoid blocks and detection software."
Harmful
He added: "Every New Zealander should now be clear that this clip is an illegal, harmful and reprehensible record created to promote a terrorist cause. If you have a record of it, you must delete it. If you see it, you should report it. Possessing or distributing it is illegal, and only supports a criminal agenda." Anyone sharing or storing the video faces a $10,000 fine and up to 14 years in the cooler.
The authorities confirmed they have urged Facebook to cough up the names of New Zealand citizens who shared the video.
There have also been numerous reports in the Kiwi press of people who have been fired from their jobs for watching or sharing the video with work colleagues, sparking a debate over whether it is a legally sackable offense.
Meanwhile, New Zealand prime minister Jacinda Ardern issued what she said was a "global call" to combat the racist ideology behind the attacks, and argued that every country needed to target white nationalism and including "weed it out where it exists and make sure that we never create an environment where it can flourish."
She put some of the blame of the attack on Silicon Valley's goliaths, arguing they need to "take more responsibility" after the video, the shooter's "manifesto," and countless pictures of the attack were shared and promoted online.
"We cannot simply sit back and accept that these platforms just exist and that what is said on them is not the responsibility of the place where they are published," Ardern said in a speech to New Zealand's Parliament. "They are the publisher, not just the postman. It cannot be a case of all profit, no responsibility."
Meanwhile, at least seven people were cuffed in the UK for alleged hate crimes regarding the Christchurch massacre. ®
PS: Australian and New Zealand ISPs and telcos have temporarily blocked their subscribers from accessing dozens of websites, including 4chan and 8chan, for hosting the Christchurch terror video, though not Facebook or Twitter. The blockade is set to be lifted once it's clear the footage has stopped being shared.
Similar topics