GTC The US government needs to strengthen its commitment to AI with concrete funding, favourable immigration policies and better education if it's serious about remaining competitive, Democrat Congressman Jerry McNerney said on Tuesday.
President Donald Trump signed an executive order last month, launching the American AI Initiative, a national strategy to bolster developing technologies. Although it highlighted five key areas, including investing in R&D and using the technology to the benefit of national and economic security, there have been no actionable promises made yet.
Right now I think we are quite cooperative [with China]. I don't see any major restrictions on either side...
AI is often referred to as an "arms race" and many experts fear the US will lose its competitive edge to China, which has a more fleshed-out national agenda. Its "A Next Generation AI Development Plan" lays out clear steps to become a world leader in the tech by 2030. China has pledged billions into startups and created new educational programs to equip people with the necessary skills.
Although the US leads in research, governmental efforts to support the technology have fallen flat. McNerney – a California Congressman –  addressed this issue during a talk at Nvidia's annual GPU Technology Conference in Silicon Valley.
"The administration did issue an executive order but in my opinion it doesn't go nearly far enough," he said. "I'd like to see something like a five-year plan. We need to lay out educational goals and make sure that young people have opportunities to see AI as something they want to do, and we need to give them the tools so they can become proficient. We need to put money into research so we support public partnerships. The US needs to step up. We need long term goals.
"We're all engaged in economic competition. There are big players like China, but there's also India and Russia, who have a tremendous history in maths and technology. There are also smaller countries coming up. We need to position ourselves as a competitor and AI is a main tool to remain competitive."
McNerney added that he didn't want to see the so-called arms race get too heated. "Right now I think we are quite cooperative [with China]. I don't see any major restrictions on either side." He skirted around the idea of reaching artificial general intelligence and using it maliciously. Instead he was more worried about how the technology could be best applied.
"The problem is how do we use AI in a beneficial way that's evenly distributed. We don't want to get behind countries that have nefarious intentions to our country. The opportunities are immense."
The academic community has repeatedly emphasized the need for better immigration policies to retain talent. Some researchers have failed to obtain the necessary visa requirements to enter the US and present their own research despite their work being accepted into prestigious conferences like NeurIPS (Conference on Neural Information Processing Systems).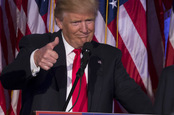 Prez Trump orders Uncle Sam to step up AI efforts – we all know the White House knows a lot about artificial intelligence
READ MORE
McNerney echoed those concerns. "The immigration rule is really important. The value of people from the best and brightest minds across the world has made Silicon Valley the Mecca and economic powerhouse it is today. We need to invite the best and brightest and give them the opportunity to stay here. If we continue to restrict that they will go somewhere else and that will be to our detriment."
The Democrat Congressman represents California's 9th District, covering San Joaquin, a large area in the Central Valley. He co-chairs the Congressional Artificial Intelligence Caucus alongside Congressman Pete Olson from Texas, serves on the Committee on Energy and Commerce, and is a member of the House Committee on Science, Space and Technology.
He hopes to unify Congress to eventually craft AI policies that will ensure the technology is applied appropriately without hindering progress. He was particularly excited about how it could be applied to healthcare, smart cities and climate change.
"AI is a big deal in Washington like it is here [in Silicon Valley]. I'd like to see members of Congress be more educated about AI. There are concerns about how it may dehumanize society and leave people jobless. But there is a lot of nuance and a lot of in-between. I want to help members understand through caucus meetings to get a better feel for what AI is.
"If we create AI policies, we want to open up innovation. It's kind of a fine line and we need people to understand that. Look at the internet, it created a tremendous economy and I want to see AI doing that." ®
Sponsored: Webcast: Ransomware has gone nuclear