This article is more than 1 year old
Brit Parliament online orifice overwhelmed by Brexit bashers
Conspiracy theories abound as UK petitions website enjoys a Thursday TITSUP*
Updated When will lawmakers ever learn? Whenever the electorate is given a choice, they are bound to do something silly. In this case, overloading the UK Parliament's petition site with signatures on a Brexit-stopping suggestion.
The site began tottering at around 09:00 UTC as it buckled under the load of voters pledging their support for revoking article 50 and keeping Blighty snug in the arms of the EU.
#revokearticle50 was gaining 120,000 an hour at 8am. #parliamentpetitions site has crashed 9am. What is going on?

— Adrian Strong (@AdrianS19107137) March 21, 2019
Normal service briefly resumed before 10am but the site still appears to be distinctly wobbly, allowing conspiracy theorists on both sides of the political divide to don their tinfoil hats and party on London's College Green, adjacent to the Houses of Parliament.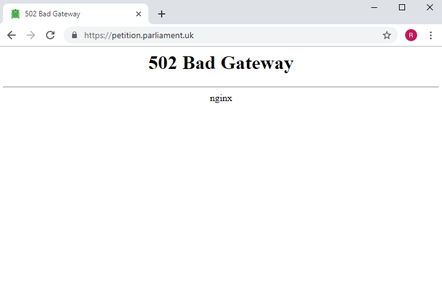 But it's the will of the People
A person familiar with the matter told El Reg that "it's been up and down like a yo-yo this morning. It's sheer load more than anything else" while a House of Commons spokesperson informed us that: "The petitions site is experiencing technical difficulties and we are working to get it running again urgently. It has been caused by a large and sustained load on the system."
Relaunched in 2015, the website allows members of the public to create, publicise and sign petitions. Should a petition score 10,000 signatures, the government will give a response. Over 100,000 signatures will see the petition considered for a debate.
An optimistic "If England win the world cup, the Monday should be made a bank holiday for 2018" scored nearly a quarter of a million signatures, but was rejected by the Petitions Committee.
So lots of votes doesn't necessarily mean you'll get what you want. A lesson for us all there.
At the time of writing the petition site is back up again, with the culprit standing at over 700,000 signatures, and growing at a rate that will have Westminister's IT bigwigs reaching for the gin and tonics. ®
* Total Inability To Stand Up Petition
Updated to add
The House of Commons got in touch to give us an update on the ongoing omnishambles.
A spokesperson told us: "We know that the Petitions website has been experiencing problems due to the number of people using the site. This is a mixture of people signing petitions and refreshing the site to see changes to the number of signatures. The majority of people are now able to use the website, and we and the Government Digital Service are working to fix any outstanding problems as soon as possible."
Judging by the "502 Bad Gateway" message still appearing on my browser, it would seem this hack is not part of that majority.